Santa Fe New Mexican strategically works toward pay model
Ideas Blog | 19 February 2013
In just a few weeks, The Santa Fe New Mexican will launch a revamped news site from a new CMS.
The site will offer readers several upgrades from its former, dated interface, including improved navigation and search, additional content, social login options, and access to, definitively, the most comprehensive event calendar in Northern New Mexico.
So what's the big deal about this calendar?
First, you'll have to know a little about Santa Fe — a cultural mashup of 68,000 that harbours an arts and culture scene on par with many major metropolitan areas: 250+ art galleries, an outdoor opera, three world-class summer art markets, multiple museums, and innumerable exhibitions, concerts, and performances each year.
The only calendar in Santa Fe to consistently and accurately manage and distribute this volume of information has, until now, been available only in The New Mexican's Friday arts and culture magazine, Pasatiempo.
But in a few weeks, Pasatiempo, too, will make its online debut with PasatiempoMagazine.com.
This tandem online launch of the newly upgraded news site and the newspaper's stalwart revenue generator, Pasatiempo, will be the company's strategic platform for simultaneously introducing a meter.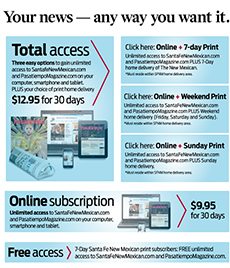 The goal is to present our online audience with our best foot forward in terms of content, features, and user experience before implementing our meter. We want readers to have the very best we can offer — something they'll find real value in being part of.
Years of gradual erosion in circulation have brought The New Mexican to the metered site "tipping point," particularly in the face of online numbers.
While Sunday circulation has dropped roughly 15% since December 2009, the number of unique visitors to SantaFeNewMexican.com has increased by 80% within that same time period.
The metered site will launch 30 days after the launch of the new SantafeNewMexican.com and PasatiempoMagazine.com sites, and will have a three-article limit before requiring registration, and a 10-article limit before requiring subscription.
The subscription model will offer two pricing options — US$9.95 for 30 days of unlimited access to both sites, and US$12.95 for 30 days of "total access" to print and online, including unlimited access to both sites plus the reader's choice of seven-day, Weekender, or Sunday-only home delivery.
The US$12.95 pricing option fits nicely with The New Mexican's current auto-renewal pricing structure for seven-day and weekend home delivery, both also priced at US$12.95 per month.
The desired outcome is that the sale of online and print combination packages will help to lift The New Mexican's auto-renewal subscriber percentage toward the company's goal of 50% by the end of the year.
We have a strong foundation — nationally recognised journalism, locally relevant niche content and features, and loyal readers and advertisers, both in print and online. Within the last six months, we've completely upgraded both our editorial and business management software systems and overhauled our workflows in all departments to make us more efficient than ever before.
We believe it's the right time to make this move. We're ready.