There is no question that digital has become the leading influence for consumers and retailers.
With Thanksgiving week returns are now in, and e-commerce for the week up +26% YOY (and way up on Thanksgiving Day and Black Friday), the digital marketing plan will continue to draw more time, effort, and attention from the advertising community.
Staying competitive in the digital space requires an understanding of the audience that uses various devices at various times for various reasons.
Explaining digital dynamics to our advertisers can be terribly confusing. Yet this is our opportunity to make sense of how things are evolving and how we can give them greater return on their investment with us.
We are in a state of continuous change and learning. I like to call it being a "student of the game." We must always be learning, developing, innovating.
We have an opportunity as our digital visitor volumes continue to grow to record audience levels.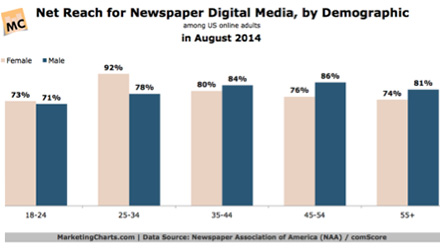 Our success tomorrow will be determined by how well we understand how, why, and when our digital audience interacts with us.
Only then can we provide the satisfying experience that keeps them returning— and returning more frequently. Only then can we develop high-volume visitor segments formed by their demonstrated behaviours and content interests.
Data on mobile users is the key to business in the increasingly more mobile future.
Just three years ago, 6.5% of our DMA audience owned a tablet. Today, that number is nearly 50%. And smartphones have become a common personal appliance.
We are in a state of rapid, continuous change.
Bringing the news to consumers via digital devices will require us to better understand consumer news consumption in the digital era. We must develop greater insights on how (individual) consumers use and access our channels to create a personally satisfying experience.
The table below is a visualisation of how our digital visitors access our digital news by device and hour of the day. A few takeaways:
Desktop use is heavy during work hours.


Phone use is consistent throughout the day.


Tablet use spikes in the early morning and late evening.
Now it is time to look further under the hood with these questions:
How many of these device users are actually the same person accessing us via multiple touch points?


How does content accessed vary by device?


How does content accessed vary by time of day?


What variance in time on site results from device and content differences?
The ultimate question: How can we improve the experience for each of our visitors?
One thing is for certain. As we obtain better data resulting in more revealing information, I will never tire of watching, studying, and deconstructing how consumers consume.
Changing, challenging, and fascinating times, they are.
Now, it is time to begin reconstruction for the future.