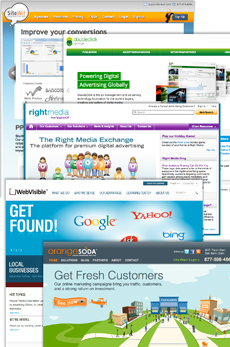 During the INMA mobile and integrated sales seminars in Chicago last week, I got a chance to hear first-hand different variations of the integrated sales models being used in different North American markets.
It is pretty clear that an overwhelming number of newspapers are at different stages of introducing, developing and improving their own unique version of an integrated sales model which can simply be described as selling advertising across different platforms including print, online, mobile, social, et al.
Those in attendance heard me talk about what differentiated Denver's model. I thought I'd do the same in this blog for those who didn't attend and share why we think the differentiation compliments and enhances the sales model.
The differentiators in Denver's sales models are:
Local digital ad network.
Search.
Mobile/social.
We refer to these three revenue segments as the "newspaper revenue models of the future."
Most newspapers go to market with a strategy of establishing their audience size and comparative advantages against other media along with a "bundle" of opportunities in the newspaper and online. In some cases, these ideas are coming out of in-house "agencies" or "digital agencies" and include services that range from building Web sites and apps for advertisers to QR codes.
All of which is good and a huge step in the right direction of recapturing lost revenue and creating digital growth rates that can materially offset substantial revenue losses in print. But those sales and business models probably won't generate the 40%-50% digital growth rates necessary to put most newspapers in the black in year-over-year revenue comparisons. And those types of growth rates aren't going to come from selling more display ads on your newspaper Web site.
The revenue potential has to be tapped from the fastest-growing digital categories, which are local digital advertising networks, search and mobile/social. These are "out-of-network" strategies which means newspapers must develop sales models that reach audiences beyond their own newspaper, Web and mobile platforms.
Digital advertising network spending is projected to grow 50% on a significant revenue base. These would be companies such as Double Click (Google) and Right Media (Yahoo!) along with 24/7 Real Media, Interclick and Collective Media.
Search is projected to grow at a rate of 15%-20% in 2011. In most markets, search now comprises 20% of the local advertising pie because most advertisers believe what they read and they have read over and over again that search is the Holy Grail. In Denver, that amounts to US$142 million in 2011, according to Borrell Associates. Newspapers, on the other hand, aren't wild about the search business because it is a low or no margin business. The solution is to combine search with display banner ads and re-target capabilities to increase both the spend and the gross margin on each advertising buy. Search partners for newspapers to build out this revenue segment are numerous and include WebVisible, Orange Soda, Metrix4Media and SiteWit.
One company that stands out and needs to be on everybody's radar is Reach Local. In roughly two years, Reach Local has opened 43 local markets, hired roughly 700 sales people, and generated US$300+ million in search, banner and retargeted advertising with an average sale of US$1,500 a month to primarily small- and medium-sized businesses. But we've also found selected major advertisers in our local market use Reach Local as well.
Newspapers have a significant advantage against both the ad networks and search competitors in the premium ad inventory we control on our newspaper.com Web sites. Ad networks and search competitors are forced to buy run-of-site inventory on sub-premium sites that aren't going to deliver the click-through rates and leads necessary to sustain an ongoing relationship.
While mobile and social revenue percentage growth rates are greater than either the ad network or search business, the potential revenues are less simply due to available inventory on the device. That being said, it is an essential part of the ad mix and must be included in the bundle of ad solutions offered to advertisers of all sizes. We also include the iPad in our mobile ad inventory. With the releases of location-based functionality and the ad inventory that comes with it at higher CPMs, mobile becomes a key part of the highly targeted strategies advertisers are demanding. Because people increasingly use mobile devices to access their Twitter and Facebook accounts, we believe there is a revenue convergence on the mobile platform where, according to Twitter CEO Dick Costolo, 40% of all tweets originate.
Any or all of these sales revenue models packaged along with print provides an advertiser with better advertising solutions than any of the stand-alone businesses we compete against — provided they are properly packaged and sold by a digitally fluent, multi-media sales executive.