I know I've already written a couple of posts on data visualisation. But I want to share some recent experiences.
Data visualisation is a great way to enter the Big Data space and help bring an organisation forward into using large data sets more effectively in an effort to improve business practices and positive outcomes.
In my opinion, the No. 1  reason data visualisation can make a quick positive impact is because one can attack smaller tactical projects that can show an immediate positive impact.
At The Bee in Sacramento, California, we have some kind of data visualisation project supporting all major divisions.
With our advertising portfolio only becoming more complex, with multiple product and multiple market opportunities, we are constantly looking for ways to simplify how we present our story (and proposal) to our clients.
Maps are a great visual to use whenever possible.
Julie Baretsky, our senior data analyst, has developed an interactive mapping dashboard that combines the goals of making it simple for the user to tell their story and simple for the viewer to see and absorb the point of the story.
Below is a sample test map that you, the reader, can interact with right now. Published with Tableau, you can click on the filtering variables on the right to control what appears on the map.
This technology allows us to easily and interactively show a viewer relevant situations on a map, simplifying the presentation into a visual discussion.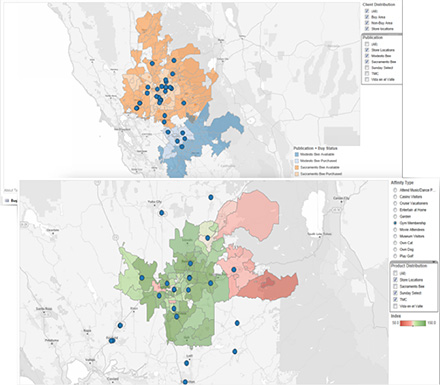 Go ahead, you can interact with the map by clicking on it. You can turn on and off a market area, a product footprint relative to store locations, and what geography is currently being purchased versus not purchased.
Simply put, being able to easily show a client where holes might occur in their current buy can add to incremental revenues.
The map illustrates the Sacramento and Modesto market areas.
Store locations are indicated by the dots.

Sacramento and Modesto Bee areas for zip code distribution of zoned pre-prints are shown for those zip codes a client is currently buying, versus currently not buying.
Imagine that these are gym locations and now you can quickly show the opportunities brought about by including some TMC and Sunday Select distribution in key zip codes with a high index (Nielsen affinity index) for gym use (indicated by the coding, see in scale).
Ultimately, it changes the way we can access data on the fly and give a conversational presentation while changing the map views to make our case.
There are many data sets that need to be compiled to allow the display of these scenes. But, as it all stays behind the scenes, the presenter controls a brand new conversation-style presentation that is made possible by using vast amounts of complex data sets at one time to visually change charts, graphs, and maps to make the important sales points … in simple views.