As we are always focused on the audience segment(s) most important to our business clients, sometimes it is useful to start with a broad view of how all consumers are interacting with a certain category of business.
A high-level view can be a great beginning to an insightful and meaningful discussion.
Sometimes an easy way to provide insights for our client audience (even internal staff education) is to look at generations, segmented across a category of business or merchandise purchased.
This can be accomplished by simply using a research study like Nielsen/Scarborough to create variables by grouping age segments together that reflect the generations. Again, the purpose is to be able to quickly see what differences exist in generations' adoption of technology, product buying, or participating in lifestyle activities.
Some examples:
How people adopt, buy, and use technology along their path-to-purchase is important to understand and sometimes difficult to clearly get across. A chart like this one can help. One can quickly see that local smartphone penetration is highest amongst Millennials and Gen X, while desktop penetration remains highest with older Baby Boomers. And laptops/notebooks reign with older Millennials and Gen X.
The chart below illustrates how Millennials are currently the heaviest app users when seeking auto information, yet it's the young Baby Boomers to the seniors who are buying more cars. This view sets up a great conversation about developing the right media mix and the need to be omni-channel today.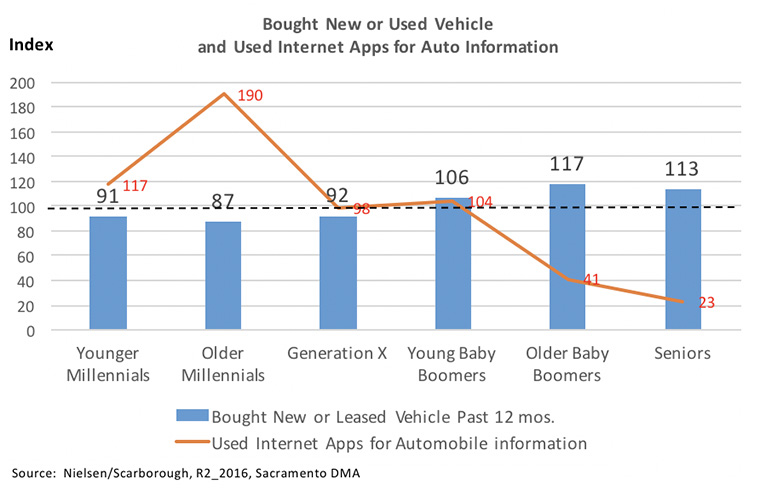 Another look shows who is buying new or leased vehicles versus used vehicles. In the next chart, younger Millennials index highest for buying used vehicles.
Take a look at shopping and buying by generation. It can help you visualise the market segments that are important to focus on most and develop a plan to cover those segments that will be most valuable to your business.
The same views easily illustrate what generations are participating most in things like hiking, biking, outdoor grilling, gardening, soccer, or golf. Lifestyle activity participation adds to the picture of the target you are going to be marketing to.
The view below helps to illustrate how generations are utilising key marketing channels that we can offer most direct exposure through or management and optimisation of. It's pretty easy to see print utilisation is from Baby Boomers to seniors and the digital channel involvement is across the younger generations.
Views like these can help us explain how generations are utilising various media channels.

With the speed of change today, driven by access to new technologies and information, it is truly an exciting time to be in this business. It is challenging and rewarding to figure out what is best for our clients. Constantly remaining a student of the game, we can illustrate what is happening and who is impacting change.