Custom, high-value client projects normally come with a higher time commitment. The more time it takes to complete a project, the fewer projects one can complete.
The following is an example that preserves the custom analysis approach while increasing the capacity for the analyst to scale for more projects through automation.
Client information
A multi-location client values receiving monthly reports providing insightful information, not only about its campaign performance but also its customers. An overview of new membership counts (trends) and customer profile composition at each location keeps a pulse on the direction of business.
Situation
Our research analysts spend significant time compiling monthly reporting for clients with multiple locations. This is costly given the time and manual steps taken to manipulate, as well as time to compile large and sometimes complex multi-variable data sets.
Each month, the client provides its customer files by location. These files are processed through Claritas to append geo and consumer profile data. Next the data is re-sorted, segmented by date, and finally appended to the most current base file.
Using pivot tables, individual location consumer life stage compositions are isolated and graphed for an easy-to-visualise report for the client. The results can be made available via Tableau dashboards for easy visualisation and storytelling.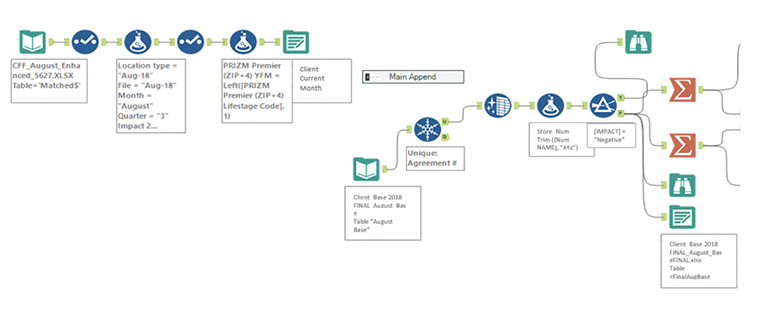 The above work used to take an average of a week to complete (40 hours each month) and sometimes longer, given the timing of the work in the pipeline.
Automation to gain efficiencies
Our analysts built a custom workflow to automate the above-mentioned process, using Alteryx software.
Using Alteryx, all the actions needed to convert the file, append it to the bigger base file, remove any cancellations and duplicate records, isolate location and lifestage counts, create a calculated table, and output a standardised report for client-facing purposes. Before Alteryx, this took 40 hours. Now, using the custom Alteryx workflow, it takes 30 minutes.
This is just one simple example of creating a custom automated process resulting in a tremendous time savings.
Deploying these processes enables more time made available to take on larger tasks associated with our big-spending clients — those clients that rightfully demand and deserve insightful, top-notch insights and reporting.