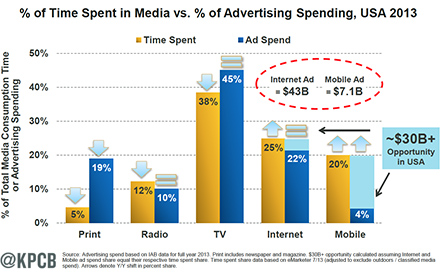 Time spent with media seems to be the hot topic based on the number of times I have been shown this chart of Internet trends, created by Mary Meeker of Kleiner Perkins Caufield Byers. The chart details the amount of time spent with a medium compared with ad dollars spent in the United States.
People argue that newspapers get too many advertising dollars for time spent with that particular medium. This is one statistic from one source. It is one piece of the puzzle – like only considering hair colour when looking at the overall population.
Consider how strange it is to look at time spent. If we analysed most people's days in terms of time spent, the conclusion would be that we love working and sleeping. Both activities are a necessity for most people, but not how they would choose to spend their time.


What we spend most of our time doing does not necessarily represent a good opportunity for advertising. If we spend most of our time working and sleeping, logic would argue that these are the biggest ad opportunities in our lives. However, they are not. In both cases, we are generally unavailable during these hours as we are consumed by other tasks.


The time-spent argument does not peel away the content and get at time spent with ads – and this is what the advertisers really want to know. This information would be more revealing.

People spend hours watching television each week, but do they fast-forward through or record the show and, therefore, not watch the ads? Time spent with ads on television might be close to zero for some people. 

What about advertisement engagement with radio programming? Do people change channels when ads come on?


Do users want ads? In many cases – NO! The user would be happy to avoid them or not have them at all. When reading the newspaper, both print and Web users tell us they want ads.

Newspapers provide local advertising information that, in many cases, is not readily available anywhere else. And let's not forget about the deals and offers the medium highlights, as well.


Engagement must be a factor. "Lean-in" media are those that users give their full attention to, such as newspapers and their corresponding Web sites.

"Lean-back" media allow the user to do other things at the same time. For example, outdoor ads can been seen during a drive, when the radio is also on, and there is a discussion in the car with the other occupants. This does not allow for full engagement.


It is also essential to consider a user's frame of mind. If users are rushed and focused on something else, ads that they encounter may be fleeting, if they're seen at all. Other media are used in a relaxed state of mind when users would be open to messages, with time to explore ideas and ads.

Newspaper readers on all devices are looking for interesting content and ads provide this, too.
Time spent should not be viewed in isolation, and it may not even be the best criteria when determining where to place ad dollars. It is easy to track and present, so it is used as shorthand "proof" but it misses other key factors.

Think about the whole situation when considering time spent with media. Don't judge based simply on the colour of our hair.