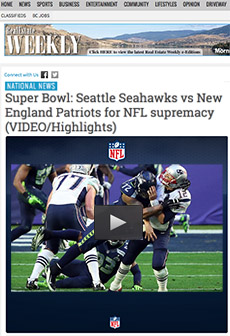 One need look no further than Super Bowl XLIX for a reminder that digital video is hot and will only get hotter in 2015.
This year's version of the American football classic drew 114.5 million views, topping 2014's record audience of 112.2 million that tuned in. The highlights generated from this year's nail biter of a Super Bowl represent a bonanza in premium short-form digital video highlights and other premium content that advertisers love. Closer to home, the SendtoNews' NFL network saw a 50% increase year over year.
Here's what I expect to see in the rapidly growing and evolving domain of short-form digital video during the coming year.
Programmatic buying will grow but at a slower rate in the premium video category.

Programmatic direct buying will continue to grow in relation to the non-guaranteed RTB market that is skewed heavily in favour of the buyer and fails to account for many attributes that are considered valuable in today's media market place, like the quality of video, type of video, and the niche premium audience it reaches.

However, growth in the premium video category will occur more slowly as premium video contents rights holders continue to educate marketers about the premium advertising value of this content and the CPMs it should consequently command.


Viewability and cleaning up shop.

Transparency matters. US$50 billion will be spent in online advertising this year, and roughly 35-40% of all Internet traffic is fake. Brands and agencies are demanding transparency and they should.

Additionally, top-shelf brands simply won't pay for video players submerged way below the fold, thousands of pixels down the page, on mute, and running on auto play. The battle against bot-generated impressions and click fraud will continue with increased vigor.

Marketers are demanding much greater viewability – the metric that tracks only impressions that can be seen by users – aiming for a 70% threshold in 2015 with an eye toward 100%.

Rigorous monitoring of CTR and the deployment of tracking pixels will provide a degree of transparency that gives marketers the tools to avoid paying for clicks and views not within specified target and buy parameters.


Consolidation continues.

Big-ticket mergers and acquisitions, as well as investments in multi-channel network properties will remain red hot in 2015. Large-scale content distributors will continue to enrich their portfolios with niche MCNs, which in turn will be keen to tap previously inaccessible global networks.

Following DreamWorks' acquisition of AwesomenessTV for US$100 million in early 2013, there's been a run on M&As and investments that has seen London-based Rightster purchase Europe's Base79 for roughly US$85 million, Disney buying Maker Studios for US$950 million, and the RTL Group take a majority US$107 million stake in Hollywood fashion network StyleHaul.


Building qualitative video value.

Vendors will continue to build value not just around the audience but also around the value of the video content itself. It's the difference between NFL highlights and talking head morning traffic reports. From an audience engagement point of view, there's no contest. This content value differentiation will continue as the short-form video market matures.


Huge growth in digital video to continue.

An estimated 85% of Internet users regularly watch video. For the first time ever, last year saw digital video advertising spend nearly matched to television spending. Revenue growth will continue in 2015. Video and social networks will capture the lion's share of growth in digital media advertising expenditures, which is set to top US$72 billion by 2017.

Canadian newspaper publisher Postmedia is expecting a lone bright spot on its bottom line thanks to projected video ad revenue growth of 26.1% this year. That's good news for a traditional media publisher, and I expect to see more and more publishers posting similar numbers in digital video ad revenue sales.

For marketers, the ability to target specific consumers was the number one advantage of digital video advertising further driving the growth in 2015.