Zeit Online's festival for young visionaries goes from one-off to frequent events
Ideas Blog | 11 August 2019
Most milestone birthdays are preceded by a moment of reflection: How do you acknowledge both what you have achieved so far and what is yet to be accomplished? How do you celebrate the past while embracing the future?
When Zeit Online turned 20 in 2016, we decided to address this challenge by turning over the proceedings to young people between 20 and 29 years old — a group eager to translate their past experiences into visions for the future.
Nobody realised at the time that inviting 600 twentysomethings to discuss their ideas for a better world would not only make for a fun anniversary celebration, it would also herald the birth of a successful event series called Z2X — The Festival for New Visionaries.
At the outset, Zeit Online's 20th anniversary was meant to be a one-time event, so the first Z2X did not follow a typical publishing strategy. Its purpose was to bring together socially engaged young people to learn about their projects and ideas for a better world and find out how to support them in further development. It was apparently exactly that kind of openness that the Z2X community found attractive. Over the next three years, 12 more events followed the initial festival in response to persistent requests from the participants.
Flagship Z2X festivals have been taking place annually in Berlin since 2016. For the first Z2X festival, thousands of young people applied with ideas to improve the world. A jury invited 600 of them to Berlin.
Over the course of two days and 100 sessions, the community discussed and refined those ideas. At the conclusion of the festival, the audience voted for their favourite projects, which Zeit Online then featured on its Web site. For the festivals that followed in 2017 and 2018, Zeit Online steadily increased the festival capacity to 800 and then 1,000 invitees.
In addition to the annual festivals in Berlin, Zeit now organises three to five smaller events each year with the help of generous funding from the Robert Bosch foundation. These take place in cities like Leipzig or Essen — because ideas for a better world, of course, are also found outside of national capitals.
Z2X has become not only a platform connecting social entrepreneurs and change makers, but also an inspirational forum where young people can discuss their ideas openly and safely. This includes almost 6,000 young people exploring new ways of living, loving, and working. They say Z2X is one of the few big platforms where the most dedicated people of their generation can set their own agendas.
Frequent topics addressed include, but are not limited to:
Digitisation and technology.
Education and new work.
Politics and society.
Science and environmental issues.
Healthcare.
Urbanism.
Media.
Activism.
Z2X participants present their ideas in the form of lightning talks, delivered in front of the entire festival audience and also watched by 10 million viewers via livestream. These festivals also include smaller workshop sessions focusing on teaching and improving useful skills (things like financing, coding, legal advice, etc.) to further development of individual projects or to provide feedback to others.
In another type of session called "Ask Me Anything," participants can ask any questions to peers who have successfully launched a project — or failed miserably. It has become a fundamental concept underpinning Z2X that even small ideas and narrow approaches can trigger change if they are thought through, consistently implemented, and sustainably operated.
By hosting and curating this free-of-charge festival series, Zeit Online supports young people in this process. Many of the projects developed at Z2X have evolved, and many participants have made their ideas into jobs. Crowdfunding platforms, foundations, angel investors, and the European Parliament now promote a range of Z2X ideas, such as #FreeInterrail.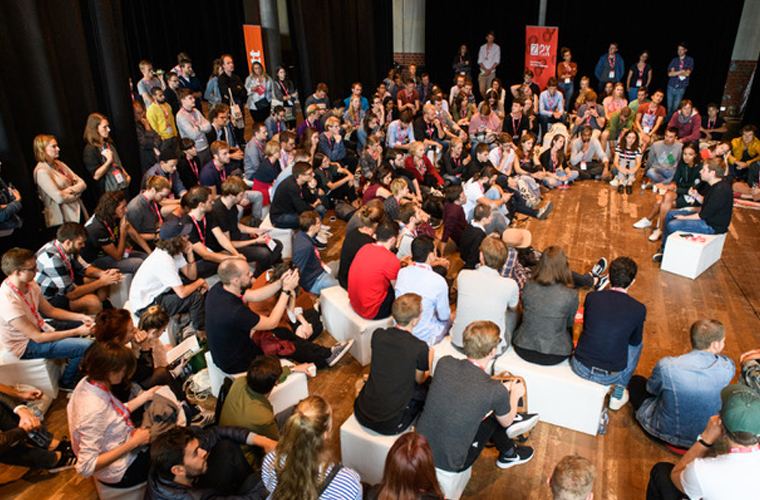 Z2X participants are connected via Facebook, WhatsApp, and Slack groups and there are regular self-organised meetups and mentoring sessions. In 2019, Zeit Online will hold another flagship festival, as well as three smaller Z2X summits focusing on digitisation, education, and Europe.
Over the last three years, Z2X has noticeably strengthened the standing of Zeit Online as the foremost quality media brand among young readers in Germany, a demographic that other media companies have failed to serve with similar events.
Many events held by media companies are profit-oriented, cost a significant amount to attend, or are aimed at the educational elite. But the need for networking within the Z2X target audience is still growing. With future events along with an evolving online platform for the Z2X community and a broadened journalistic focus on their topics, Zeit Online hopes to motivate young people to put their ideas into action and develop projects that can have a positive impact on their own lives, their immediate environment, and on society as a whole. In short, we want to acknowledge what we have achieved so far and what is yet to be accomplished.