Verdens Gang boosts revenue, single-copy print sales with magazine add-ons
Ideas Blog | 18 July 2016
In a declining market, we constantly need to find new ways to keep the loss of revenue to a minimum, while generating new revenue. We recently launched a new magazine with the primary goal of minimising loss of income while shifting from print to digital sales.
We wondered if there was a way we could expand our product line within the existing resources and system to support the retail sales of Verdens Gang newspaper.
With this question in mind, we borrowed a strategy from the sport of cycling. In professional cycling, a "domestique" rider is the workhorse of the team, helping the main riders and working for the benefit of the team leader.
We named our project a "domestique magazine" with the idea is that this new magazine would contribute to our newspaper's revenue under the profoundly difficult conditions that all single-copy sales news media companies are facing. We especially wanted to focus on our most important markets on this venture.
More than 70% of our single copies are purchased in grocery stores, meaning this is our most important market. Considering this, we focused on finding themes and topics that would be of the most interest to these customers.
We first needed to identify which topics our newspaper was already producing, that had the potential to sell as a stand‐alone magazine. We then needed to adapt our retail spacing and line of distribution to include this new magazine product that would generate new revenue in our existing in-store sales space.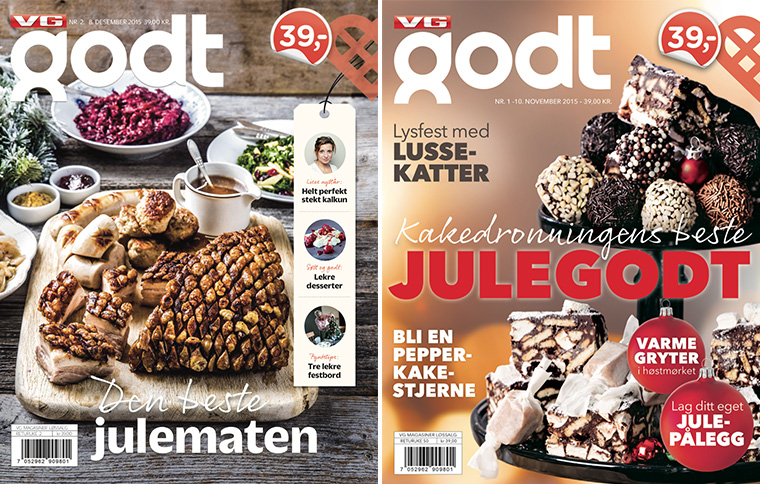 Our analysis pointed to the success of Godt.no, a digital product that generates more than 400,000 readers weekly, and is still growing. Godt.no is a collaboration started and owned by VG and other Schibsted brands.
To accomplish our goals, we would need to reverse the transformation from print to digital by establishing a magazine with minimal resources, by the reuse of already published digital content. By using content from Godt.no, we would have both a strong link with the grocery market and their customers, as well as the ideal content for potential advertisers to bring additional revenue.
With our existing system and sales organisation built around retail sales, we were able to use our knowledge, systems, and well‐established connection with retail chains. This enabled us to find new products to build up around our main product, the VG print news product, and support growth in its market shares.
We also created a new campaign and bundling tool to grow new revenue for both the main product as well as for our new magazine, without any third-party negotiation or collaborators that would claim profit from the campaigns.
We developed new display solutions customised for the different grocery stores and chains, and launched the magazine just before Christmas sales took off.
We used the network of transporters that deliver the VG newspaper every day to our 8,000 retailers. By using our existing channel for distribution, we minimised the cost and maximised the deployment.
The project was a success. We established a broad distribution to more than 3,000 retailers with the first edition. Our goal was to sell a minimum of 7,000 copies of the first edition. We surpassed that, selling more than 17,000 copies! The first two editions generated more than US$128,570 Norwegian krone.
So far, we can conclude that we have managed to generate new revenue from our existing space, while reducing the decline of our main newspaper, through a strategic and targeted single-copy-sales campaign.
This project has led us to further expand our product portfolio with new magazines: VG Reise (VG Travel) and VG Vektklubb (VG Weight Club), and expand the distribution of our crossword magazine VG Kryss.
Overall, this project strongly improved our ability to generate new revenue from already-produced material, and to finance new material that we can use digitally, in the newspaper, or in our new magazines.