Times of India app allowed audience to safely celebrate Bappa and Santa
Ideas Blog | 16 June 2021
Younger generations turn to digital media not only for entertainment but also for news consumption. While ideal for socialising and entertainment, online sites can be unreliable for important news reports, as sources are not always accurate and verified.

News media companies are considered one of the most credible sources of information. Amid the pandemic, The Times of India decided to give our readers the best of both worlds. We found an innovative way to target digital natives and convert them into TOI readers by celebrating their beloved Bappa (Ganpati festival) through a combined digital and print approach. 
Festival celebration
The idea was to celebrate Ganeshotsav in an innovative, engaging, and safe way during pandemic times. Ganeshotsav is an Indian festival where devotees keep deities of Lord Ganesha in their respective homes for 10 days and then immerse them in local ponds or water bodies. Devotees also visit pandals (temporary public installations) during this period to pay their tribute to the Lord, who is known to take away all the hardships from followers' lives.
TOI readers could install the Times Bappa app or log in to www.timesbappa.com and create their own virtual Ganeshas with customisable options like an idol, backgrounds, decorations, flowers, sweets, etc., all built into the platform. Users could change the decor, prasad, and other offerings daily. Users also got a chance to celebrate Bappa with their family and friends on all social media platforms and by attending virtual aartis (rituals of light) with other registered users.
Gamification elements were added where Bappas with the highest engagement were displayed on the platform through a leader board and through features in the Times of India Mumbai, Pune, and Nagpur editions.
The icing on the cake was the tie-ins with cities' biggest pandals (temporary public installations) for live feeds of their daily aartis on the Times Bappa platform. Users could enjoy these aartis in the comfort and safety of their homes. The daily aartis schedule and honored winners were published in TOI for the 10 days of the festival.
Print and digital campaign
The campaign was launched through print ads and editorial in The Times of India, offering exclusive content that motivated non-readers to pick up the newspaper. It was also promoted on radio and other digital media platforms.
The initiative was a runaway success with more than 100,000 registered users during the 10-day period. The celebration was pandemic safe and environmentally friendly as all of the virtual idols were immersed on the Web site using special effects.
Frequent TOI articles and print ads helped create brand awareness. We at TOI made sure that these users came to TOI daily to unlock new features on the app and Web site. The cumulative reach of the campaign is estimated at 24.5 million across Mumbai, Pune, and Nagpur (1.2 million TOI readers, 23 million digital impressions, and 250,000-plus visitors on the app and Web site). We were also able to motivate close to 16,000 non-readers to subscribe to TOI.
Secret Santa celebrations
Along similar lines, TOI introduced the Times Secret Santa initiative in December 2020.
Readers wrote to TOI with requests to send gifts to their loved ones. TOI then made their wish come true by sending gift vouchers to the loved ones on readers' behalf before Christmas.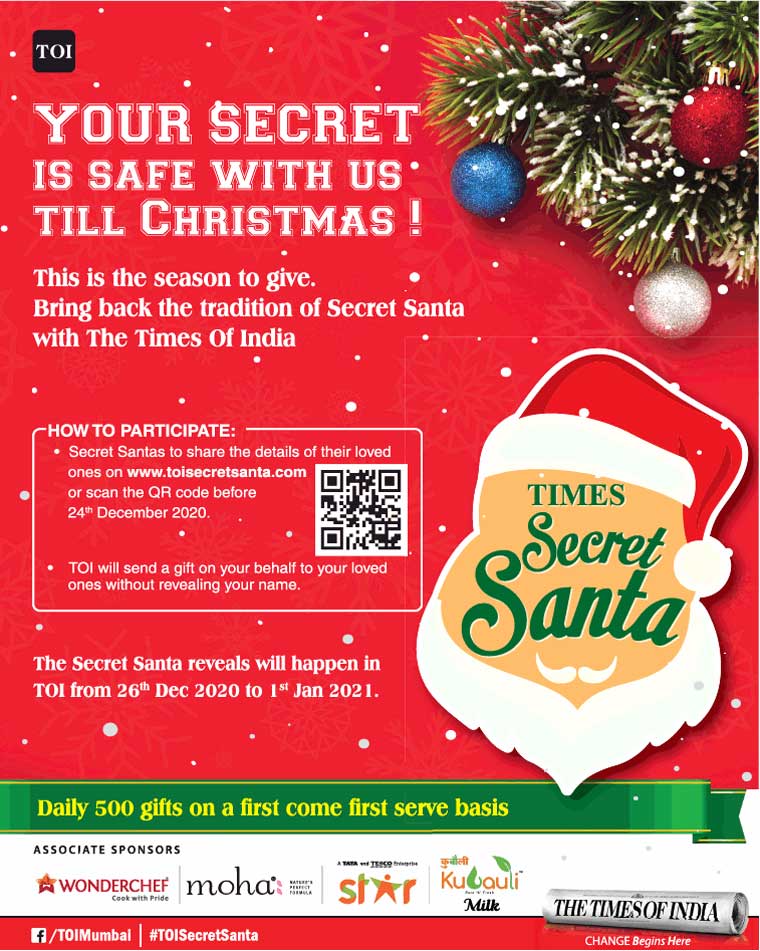 The gift dedications were collected through the interactive platform www.toisecretsanta.com.
Then came the biggest pull: A week before Christmas, the loved ones received their gifts without knowing who their Secret Santa was. To unravel the mystery, they had to read TOI daily during the last week of the year, as all of the Secret Santa reveals happened through articles and print ads in the newspaper.
TOI received close to 22,000 requests from the cities of Mumbai and Pune, and more than 8,000 loved ones received gifts during December.