ThePrint uses video series to Cut The Clutter on coronavirus
Ideas Blog | 18 June 2020
ThePrint's Cut The Clutter nightly video series with Editor-in-Chief Shekhar Gupta has become the go-to source for clear, comprehensive explanations of issues that affect us all. 
Gupta has decoded domestic and global politics, economics, major legal verdicts, and more, removing the confusing swirls of jargon and fake news and presenting information in a way that everyone, whether a layperson or a domain expert, gains something from it.
This has never been more vital to India than in the last few months during the COVID-19 pandemic. As information and misinformation about the virus, number of cases, testing strategies, and political games grew, it became crucial to expand the scope of the series. And so, on March 18, ThePrint launched Cut the Corona Clutter. 
The show gives viewers important information on the biggest story of our lives as it unfolds. We sift through genuine scientific developments, which are confirmed or come from credible sources, to remove them from the confusing, unverified context of WhatsApp and other social media platforms, then present it to viewers clearly and factually.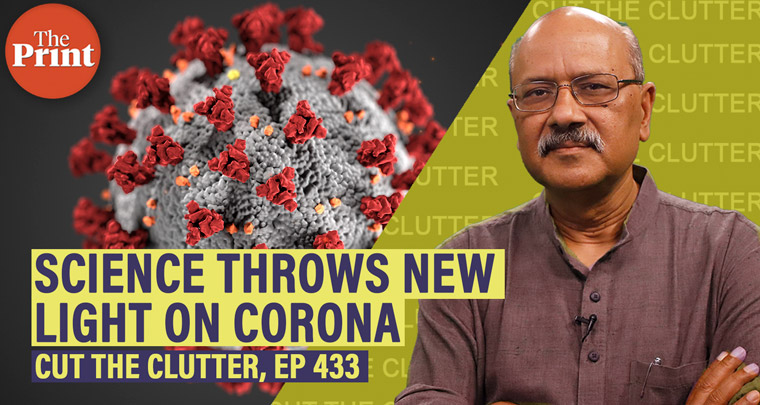 Through our format of objective yet interesting storytelling, we wanted to provide hope, lift our audience's spirits, and inspire trust in these unusual times. 
The show is not purely medical because a pandemic has to be understood in the context of the people it affects, the governance models that impact its spread, and its economic impact, among other prisms.
Approaching corona from every angle
On Cut The Corona Clutter, Gupta has discussed whether democracies or dictatorships work better at containing COVID-19, has talked about various drugs under clinical trial, and looked at comorbidities such as diabetes. He has also broken down into digestible videos issues such as the World Health Organization's global image during this pandemic, strategies such as herd immunity and pool testing, the crisis of the unorganised labour force in India, and the economic stimulus packages rolled out by the central government.
At ThePrint, we value factual, credible, research-based information, and even though we are a relatively new outfit, our audiences recognise this. They come to ThePrint for information they can trust, that isn't packaged in bias, and the numbers are proof.
Cut The Corona Clutter has not only helped increase viewership on our social media pages, but also augmented reader engagement and the time viewers spend on our site. In March, the unique views for theprint.in increased by more than twice our previous best month. Our YouTube views, view time, and new subscriber counts also grew more than twice our monthly average for the past six months, and were 80% higher than our previous best month.
We averaged more than 200,000 daily views for Cut The Corona Clutter and engaged with millions of viewers through YouTube, Facebook, Instagram, Twitter, Telegram, and podcasts. Our Facebook page saw greatly increased engagement and on Instagram, we smoothly crossed 200,000 followers.
The response from our audience has been extremely heartening. Our viewers have given us such feedback as:
"50 years from now when people would ask me how the pandemic of the century unfolded, I would ask them to go through the Cut The Corona Clutter series from start to finish."
"Never thought a journalist would cover a piece of medical news in such detail with the most recent cutting-edge research which was out only 24 hours ago. Bravo! Passion is the only answer to this"
"Thank you for keeping it so simple and keeping us hopeful, science will surely find a way out."
"A fine episode with well chosen and articulated important and latest updates on a worrisome topic. This program reassures the panic-stricken people that science would save the situation."
We started this show with the aim of giving our viewers information they could trust and including them in the process of understanding a phenomenon none of us has witnessed in our lifetime.