Telegraph collects data for newsroom to underpin subscription-first model
Ideas Blog | 21 March 2022
Having a single, clear, and unifying goal is the focus for The Telegraph  as it breaks ground with its push to be a subscription-first media company.
Its goal is to have 10 million people registered and 1 million people subscribed to its site by 2023.
"It was clear to us that a subscription-based business model was the one that most closely aligns to that commitment to journalism, so it became the primary focus," said Chris Taylor, chief operating officer at The Telegraph.
Registrations play an important role in their journey, he said: "Registrations are a part of our strategy specifically as a way to drive subscriptions." 
If you invest in journalism, your audience will grow, Taylor said. You then must convert that audience into subscribers and continue to engage them. The Telegraph calls it the "flywheel of investment in journalism."
"They will become the subscribers of the future," Taylor said. "As they subscribe, you generate more recurring revenue from their subscription, which in turn allows you to invest in more journalism, which drives a bigger audience, which drives more engagement and more conversion to subscription."
The Telegraph also wanted to take a look at subscription intent and what that looked like when it comes to digital product strategy.
"We reviewed and rebuilt all of our digital products to make sure they followed a fairly simple construct: either attracting new people into the franchise, engaging people who have already come to us, and once we have engaged them, getting them to subscribe, and once they've subscribed, getting them to engage on an ongoing basis," Taylor said.
The Telegraph's presence on third-party platforms like Snapchat or Apple News plays an important part in attracting new people to the brand. The Web site helps engage people who have already found the brand, and newsletters and the app help get subscribers to engage on an ongoing basis.
"We have always kept an element of open content on our Web site," Taylor said. "We always thought that was very important as a way of keeping the top end of the funnel nice and full."
The Telegraph app is only available to subscribers, Taylor said: "We have made it thus, so we can really make it as engaging and as subscriber-specific by design as we possibly can. There's no advertising in the app."
The Telegraph knew data would play an important role in getting to 1 million subscribers. It focused on two major things that became game-changers in the journey:
Telegraph Pulse
First, it built its own analytics platform based on Google Data Studio technology, but specifically tailored to The Telegraph. It's called Telegraph Pulse.
"We got visual designers to work on it alongside engineers," Taylor said. "We've been able to create a suite of screens that provide real-time data to our journalists that they can use to measure and react to the engagement of our readership." 
Journalists use it individually and the newsroom as a whole accesses this data, Taylor said. The interface is a large visual statement of intent, displayed 15-feet tall in the newsroom.
"No one is in doubt of what the goals are," Taylor said.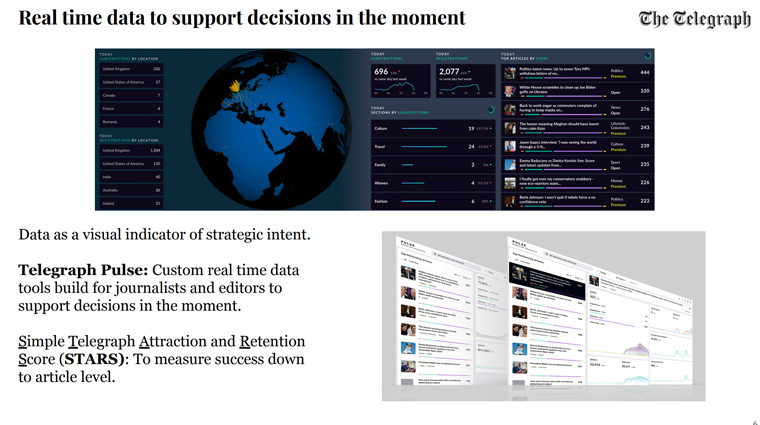 STARS
The second thing The Telegraph did was use what it calls a Simple Telegraph Attraction and Retention Score (STARS). It measures success down to the article level by scoring articles on consumption, like pageviews and user metrics. It also can look at the role an article played in converting users to subscribe and engagement for existing subscribers.
The Telegraph hopes other media companies will follow its lead when embarking on a subscription first journey. Taylor finds it appropriate for companies to publish their subscription numbers and have them verified by an independent source. He believes this is important  in making sure companies can always compare apples to apples. 
He added The Telegraph is the only one in the UK doing this, and he would like to see it adopted across the industry to keep the industry and The Telegraph itself accountable.
"If we're going to publish our progress toward our 1 million target, then there's nowhere to hide from that commitment," Taylor said.