Svenska Dagbladet recreates 100 years of Swedish history through personal anecdotes
Ideas Blog | 11 July 2017
In September 2016, the Culture section of Svenska Dagbladet, Sweden's leading newspaper, threw down a gauntlet to its readers: What do you remember from your life? And can you tell us about it in just a brief fragment of no more than 350 characters?
The response from the public was immediate and exceeded all expectations, taking reader participation to a new level. In the following months, thousands of readers between the ages of 16 and 104 submitted informative, poignant, funny, and sometimes surprising memories — more often than not with literary as well as journalistic qualities.
"We know that our readers are interested in history and in the cultural changes shaping society," said Lisa Irenius, Cultural Editor at Svenska Dagbladet. "With 'I remember,' we took reader participation to the next level by engaging them in the creation of relevant, high-quality content, together with our journalists."
"I remember" submissions were collected through a simple online form. The memories were then presented in many formats throughout all of Svenska Dagbladet's platforms.
A daily "I remember" feature was also introduced in the newspaper's print edition, while an online e-book was also developed especially for svd.se. These texts could be read, sorted, and searched, and were continuously filled with new memories as they were submitted. Editorial selections of memories according to theme and time period formed the basis for longer reportage and online slideshows, which proved to be a popular feature read and shared on svd.se.
Through an extensive social media campaign, which reached hundreds of thousands of readers, memories were also turned into visual posts and films, featuring old imagery and readers reciting their memories.
"'I remember' uses the tools and logic of the digital era, while involving our less digitally-savvy newspaper-edition subscribers," Irenius says. "We were especially happy to see their experiences widely shared and commented on in social media, often by a new, younger readership who may not otherwise have come into contact with Svenska Dagbladet. We were delighted to see the project bridge several gaps — between generations, but also between digital and print media."
To further enhance the impact of "I remember" Svenska Dagbladet worked with high-profile ambassadors — well-known writers, actors, and other creatives, as well as the newspaper's columnists — who submitted their own personal memories and endorsed the project through their channels.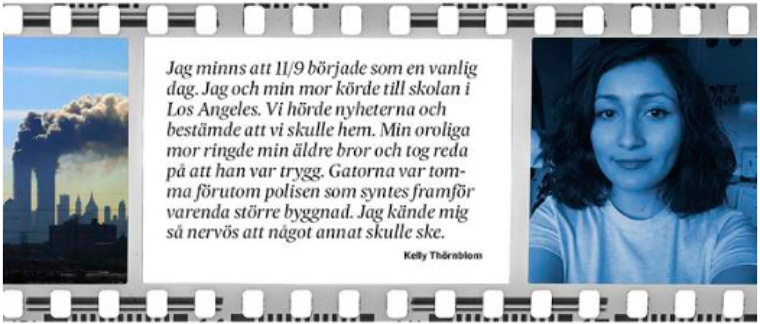 These thousands of personal memories created a uniquely personal look at Sweden over the last 100 years. Among them were recollections of seminal political events, such as World Wars I and II, and the murder of Prime Minister Olof Palme in 1986.
We are given a glimpse of Sweden in the 1920s, as a poor country where children search through food in the streets, and of the mid-century years marked by prosperity and rapid modernisation. In the latter half of the 1900s, we read about what was once an isolated northern nation becoming a mixed and open society through immigration, as well as new technology, and the arrival of youth and street culture.  
Readers shared their intimate moments of love, happiness, and loss, forming a vivid patchwork that recounts history in a new and innovative way — blending reportage, historical writing, and witness literature into one.
In November 2017, the project will take its next step as a selection of memories are published as a trade book, edited and with a preface by the historian and Swedish Academy member Peter Englund.