Sunday Telegraph breaks youth mental health stigma with forums, content
Ideas Blog | 05 May 2016
In late 2014, when The Sunday Telegraph editor Mick Carroll first heard that schoolchildren as young as 12 were taking their own lives, he knew he had to do something.
Eighteen months later and that something is The Sunday Telegraph's "Can We Talk" campaign, an initiative which aims to break the stigma around youth mental health by encouraging conversation and providing practical advice to parents and young people.
The campaign, especially in its early stages, was bold and brave. Mainstream media had not previously covered youth suicide or mental health in the way that The Sunday Telegraph was — on the front page of a major metro newspaper.
The response to the initial coverage was phenomenal, with The Sunday Telegraph inundated with personal stories of grief and loss from families, and also the stories of families terrified about their young people's mental health. Parents were being left out of the conversation around youth mental health and they wanted practical advice on what they could do.
What started as a series of editorial stories quickly grew into a wider campaign, with a free forum for parents in Sydney featuring experts in their field and people with lived experience. The forum offered an opportunity for audiences to ask their own questions of the experts, and promote a free-flowing discussion of how parents could help their children through hard times. 
That forum sold out in less than 24 hours. 
A second Sydney forum was quickly organised, followed by a series of forums across regional New South Wales to reach areas and communities that traditionally did not have the same level of access to mental health services as the larger cities. 
The campaign team, led by The Sunday Telegraph Deputy Editor Claire Harvey and Project Manager Andrew Hewitt, leveraged key partnerships with mental health organisations such as headspace, the Black Dog Institute, beyondblue, and the Brain and Mind Centre.
The team also engaged local TV and radio to further amplify the message within the local communities, while the National Rugby League's State of Mind programme held a series of clinics and school visits with former and current players in conjunction with the forums.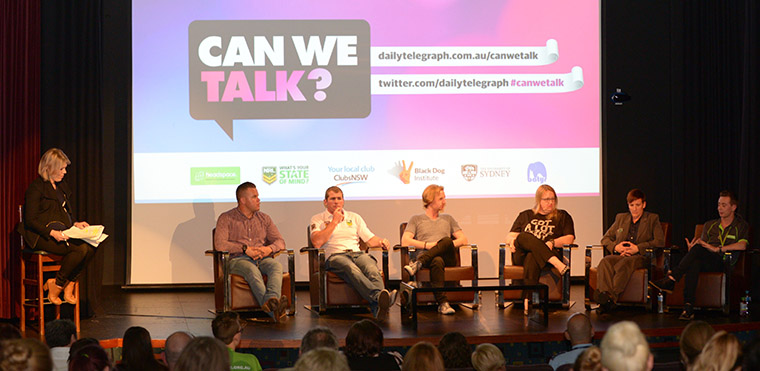 Now in its second year, the Can We Talk campaign will again host a series of forums across regional New South Wales and Western Sydney.
The Sunday Telegraph also launched a special one-off event in April called Can We Talk Right Now with partners Lifeline, Kids Helpline, and headspace. It used the front page of the paper to encourage readers to reach out immediately to these services if they needed help or were concerned about a young person in their life, broadening the campaign's reach even further. 
Over 2,500 people in total are estimated to have attended the forums in Sydney and New South Wales in 2015, with several hundred more anticipated to attend the 2016 forums. But the real impact of the Can We Talk campaign can best be summed up in an e-mail The Sunday Telegraph received from one of the attendees at the regional forums. It simply said: "Thank you for tonight, it probably saved my life."