Straits Times Schools programme prepares students for global citizenship, careers
Ideas Blog | 16 May 2018
At The Straits Times Schools, we believe one of the most effective ways to promote learning of lifelong competencies and values is to incorporate current affairs in education.
An intimate knowledge of contemporary issues and their impact on lives, as well as thinking about real-world problems and solutions, trains young minds and helps them develop into better global citizens.
These students also will be better prepared for jobs of the future amidst a VUCA (volatile, uncertain, complex, and ambiguous) environment. To that end, educators are teaching critical thinking, problem-solving skills, values such as resilience and empathy, and going beyond "traditional" academic content in many schools.
For 13 years, The Straits Times has assisted them by crafting stories that matter to young people in grades six to 12, engaging them with news-based learning activities in our print publications, and encouraging language learning, global awareness, critical thinking, and values learning.
Even though there are benefits to infusing contemporary issues into classroom teaching, it is not without challenges. When using current affairs in education, teachers have to stay informed, find resources, and figure out how best to use them.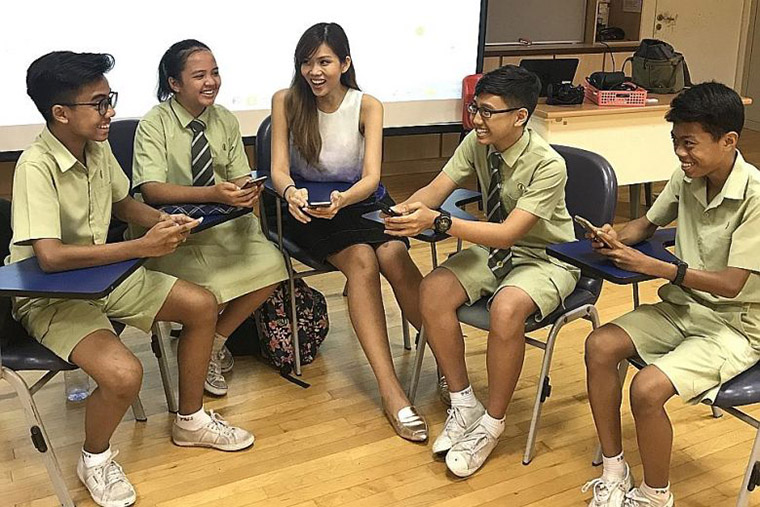 To make the resources viable, teachers need to spend time curating news articles and crafting lessons around them — in addition to preparing for the usual lessons. They may also need help identifying credible and usable resources.
To support educators and bring our news-in-education efforts into 21st century classrooms, The Straits Times released two educational technology platforms: The Straits Times IN app and the NewsEd portal.  
The Straits Times IN app contains the award-winning news content and learning activities of our print product adapted for a mobile and accessible experience for digital native learners.
Available on iOS and Android devices, the app allows teachers and students to access current and back issues, and locate specific articles with a powerful indexing search function. Tappable "hot spots" within the articles link users to multi-media resources on the Web.
The app is usable even without an Internet connection, so students who may not have an always-on data connection can still carry a repository of content in their pocket.
To help educators infuse current affairs into their lesson plans, we also created NewsEd, an online news portal tailor-made for schools.
NewsEd contains curated news articles specifically hand-picked to hone 21st century competencies and values in students. Teachers can transform any of the articles into bite-sized online learning activities for students within minutes with NewsEd's unique Learning Activity Creator.
They can create questions from scratch or adapt pre-loaded questions within certain news articles. An app version of NewsEd allows students to use their mobile devices to record and submit photos, audio clips, and videos.
The Straits Times IN and NewsEd represent our latest efforts in supporting educators who want to weave current affairs into their lessons. We hope that more educators will explore more innovative and effective ways to do this for their students' long-term benefit.