SPH: Newsroom-trained journalists make better branded content editors
Ideas Blog | 29 October 2017
The quickest way to create a connection between brand and audience is through a compelling story.
Backed by publishers who have invested time and money in building newsrooms with best practices and rigorous standards in journalism, newsroom-trained journalists do it best — as they understand the importance of context and relevance, and know how to reach out to readers and connect with them.
This is what Cathay Pacific Airways wanted: to connect with globetrotters through its global #lifewelltravelled integrated campaign by getting them to share their stories and experiences through their encounters with the airline.
While Cathay Pacific has a rich repository of owned content comprising these types of moments and discoveries, the airline went a step further by collaborating with the big names in publishing — BBC, CNN, Telegraph, The Atlantic, and Singapore Press Holdings, in a bid to build a long-term relationship with audiences.
This move showed that the brand understands that the impartial standpoint of a publisher lends credibility to any content. As Seth Godin, the godfather of content marketing says: "You need editors, not brand managers."
The idea of marketing, or precision marketing as he calls it, "should be ... anticipated, personal, and relevant, rather than interruptive."
Think like a marketer, write like a journalist.
As a trained journalist and a branded content executive producer with BrandInsider, the digital content marketing arm of Singapore Press Holdings, I've seen my share of client-led content created by agencies, publishers, and even public relation agencies. Some touched my heart; others turned me off.
When Cathay Pacific invited me to the launch of its new-generation aircraft Airbus A350 in Hong Kong, I saw it as an opportunity to understand the brand's DNA, to meet the people involved in the airline's second biggest marketing campaign and to understand the intricacies of the aviation industry.
All this with one goal in mind: to deliver stories that encapsulated the service ethos behind Cathay Pacific's business objectives and to move beyond the superficial and oft-times repeated destination-focused articles.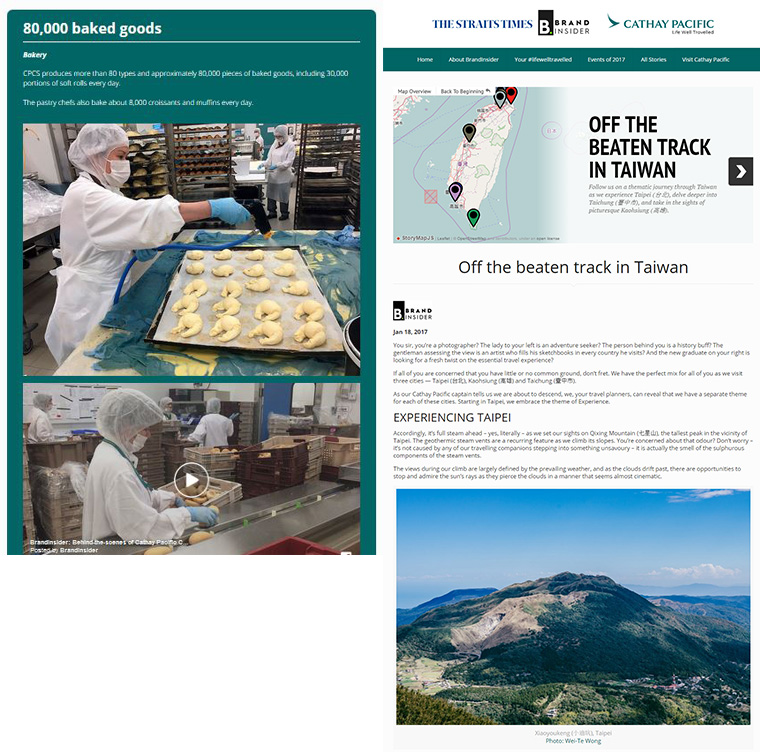 When I went behind the scenes at Cathay Pacific Catering Services, one of the world's largest airline kitchens, I wore multiple hats — that of journalist, mobile reporter, digital storyteller, brand manager, project manager, photographer, videographer, and social media marketer — and it helped me to craft a story that would inform and educate the reader.
But I wasn't thinking just about the story. I was also concentrating on the effect the content would have on people, and how that might translate to engagement, reach, brand advocacy, and ideally even, conversion.
This is one instance where journalists-turned-content-managers take a story from good to great with their range of newsroom skill sets, making branded content more authentic and relevant. Stories that are backed by data and facts usually have better recall, or stickability, because they are newsworthy and enable the audiences to learn something new.  
While there is still a strong demand for influencer marketing and advertising, these forms of branding fail to do two very important things for the end user: maintain a tone of credibility and emotionally stir, both of which only compelling stories can do.
A publisher's legacy lends credibility, which aids in performance.
The campaign surpassed industry benchmarks on many levels. For one, the longest dwell time out of the 10 articles reached almost six minutes – a number comparable to editorial content.
With close to 59 million impressions served through tactical banners, which saw 69,000 click-through, this led to a successful lead generation for Cathay Pacific's marketing team in Singapore. The year-long campaign that began in early 2016 garnered almost 160,000 pageviews, validating our belief in editorially led branded content.
To ensure that readers remained engaged, the editorial calendar had a good mix of newsroom-worthy content and feel-good pieces that included an Instagram-led food journey around Hong Kong, a personality test to find out which city suits you best, a first-hand experience of flying on Cathay Pacific Business Class, and a travel piece on uncharted Taiwan.
These stories were told not just in words but through rich media as well, making digital content an immersive experience.
Not surprisingly, then, more publishers are starting their own content studios, as there is an increasing demand for editorial expertise in the execution of branded content. For instance, The Wall Street Journal, The New York Times, The Washington Post, and Time Inc. have already ventured into this area and are monetising it.
My takeaway from this partnership is that when brands entrust content to people who do it best, something as old-fashioned as storytelling can work to everybody's benefit — the brand, the publisher, and the audience.