SPH embraces strategic telecom partnerships to increase mobile subscribers
Ideas Blog | 18 September 2016
Mobile technology is transforming the way we consume media. The pervasiveness of smartphones and high-speed mobile Internet access has changed how, where, and when we access content and information. This has been keenly felt in Singapore, where our Internet connectivity ranks among the top three in Asia and our mobile phone penetration rate is the highest in the world.
At Singapore Press Holdings (SPH), we believe mobile technology provides traditional media owners the opportunity to reach new audiences, giving consumers new ways to find and enjoy compelling content.
As the lines between telecommunications, technology, and media markets erode, we identified several emerging opportunities in the mobile space. One potential opportunity is forging non-traditional partnerships with like-minded partners to produce innovative solutions that address our customers' evolving media consumption needs.
To this end, we partnered with StarHub, one of the largest telecommunications companies in Singapore, to pursue joint projects in the converged media space. A memorandum of understanding was signed between SPH and StarHub in March 2016 to explore collaborations in advertising sales, cross-media content creation, data analytics, and marketing.
One of the first collaborations arising from this memorandum is a tie-up that gives free local data access for nine SPH mobile apps to all StarHub mobile post-paid customers.
The first newspaper-telco tie-up of its kind in Southeast Asia, this year-long collaboration initially included apps from five newspaper titles (across three different languages), one online news aggregator, and three digital radio apps, with more apps expected to join in the coming months.
This zero-rating collaboration could allow customers to save close to 25% of their monthly mobile data quota. There was positive traction, and we have observed a 10% growth in daily unique users among the mobile customers for some of the apps since launch.
We also worked strategically with StarHub to maximise customer retention/acquisition and existing revenue streams. We offered joint subscription promotions as part of the collaboration by providing attractive up-selling and cross-selling opportunities to each company's customer base.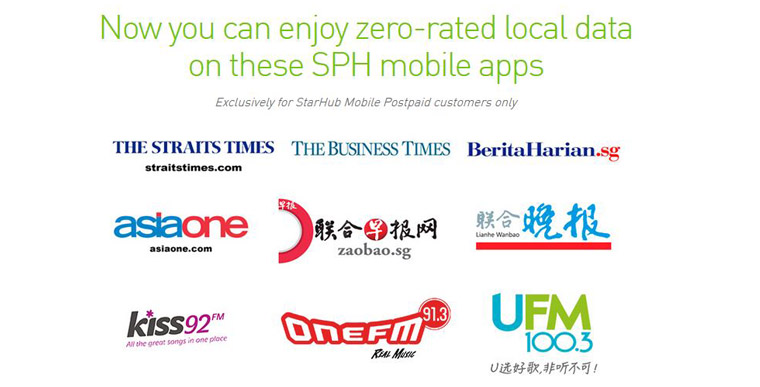 Through a coordinated marketing campaign, we amplified the joint subscription promotion, along with the zero-rating collaboration, across all platforms, including print, digital, and radio, to the rest of our existing and potential customers.
We also had new product offerings availed by other partners for similar win-win outcomes. As part of their new digital newsstand service, we worked with SingTel, Asia's leading telecommunications company, to give their post-paid mobile users data-waived access to one of our flagship newspapers' subscription packages. 
Subscribers can effectively enjoy no local mobile data charges when they access our content on their mobile devices, including the e-version of its print edition, its award-winning videos and live streaming for reporting of major events.
The above is a compelling case of how companies in traditionally disparate fields — media and telecommunications — can come together and leverage mutual strengths to innovate and transform in the rapidly converging media space.
News organisations must remain agile enough to adapt to the changing behaviours of our consumers and adopt pragmatic approaches to growth. This includes building non-traditional cross-sector partnerships and capabilities across the increasingly complex media ecosystem to capitalise and reshape how, where, and when content will be delivered and consumed tomorrow.