Singapore Press Holdings innovates print advertising by adding digital aspects
Ideas Blog | 29 April 2020
With digital advertising becoming a more important revenue source for many publishers, it is imperative for them to find a way to innovate and integrate their print advertising offerings with their digital ones.
While many publishers still command a sizable audience with their print products, the challenge is to have a form of audience activation that allows trackable ROIs just like digital campaigns offer. One solution is to enhance print advertisements using technology that allows us to track campaign performance and deliver more conversions for our advertisers. 
As Singapore Press Holdings set out to experiment with this solution, we wanted to understand audience interactions and conversions from offline (print) to online. We asked ourselves: What encourages the reader to take action after seeing an advertisement? What kind of technology should we deploy to achieve our goals? 
For the offline-to-online campaign, The New Paper (TNP, a freesheet owned by Singapore Press Holdings) partnered with Gain City, one of Singapore's largest electronics retailers and a longtime partner of SPH, to drive customers to a specific outlet to purchase discounted household electronic items. 
The incentive came in the form of exclusive vouchers only redeemable via our advertisements to be used at the store on the day of promotion. Dryers were going for US$450 instead of US$991, washers were US$230 instead of US$353, and television sets were US$592 instead of US$1204. These huge discounts were available for any reader who signed up and turned up on the day of promotion. There was even a lucky drawing to sweeten the deal!
Making print more popular through technology
To do this, we deployed a scanning technology which was easily accessible via a mobile phone's camera. Readers saw the advertisement, activated the scanner through a campaign URL, scanned the advertisement, and registered for the promotion. 
Print advertisements appeared in TNP for 3 days (inclusive of the promotion day). On the day of the promotion, we had our DJs from SPH Radio hosting on site as well. 
As a result, Gain City saw increased footfall at the store. The campaign also brought in close to 500 readers who scanned and interacted with the advertisements. Close to 300 vouchers were registered, and the store eventually sold more than 300 washers and dryers and more than 100 television sets.
Note: There are two possibilities for having more products sold than vouchers redeemed. Firstly, as we did not limit the number of appliances one redemption can purchase, it is possible (and not uncommon in Singapore) that purchases were made on behalf of friends and families as well. Secondly, the client could have offered the discount to a very small number of customers under their discretion.
Gain City was very happy with the campaign, seeing its success as a strong signal to continue investing in print advertisements with SPH.
More importantly, this campaign helped us draw some important lessons. By placing our readers' needs at the heart of our campaign, we managed to work out deals that were attractive to them. And this played an unmistakably big part in the campaign's successful activation. It is also important to ensure the ease-of-use of any technology implemented for such a campaign. 
Helping businesses reach customers in a pandemic
This is especially true during the COVID-19 pandemic. With more people staying home, readers are now spending more time reading our papers.
Fueled by the understanding that local businesses now need more exposure to consumers, we recently added a segment within our flagship newspapers, The Straits Times and Lianhe Zaobao, to allow businesses to reach our print audience and translate the offline engagement of reading the ad into an online experience of completing their transaction. Each listing comes with a QR code which readers need to scan to get more information about the deal being advertised.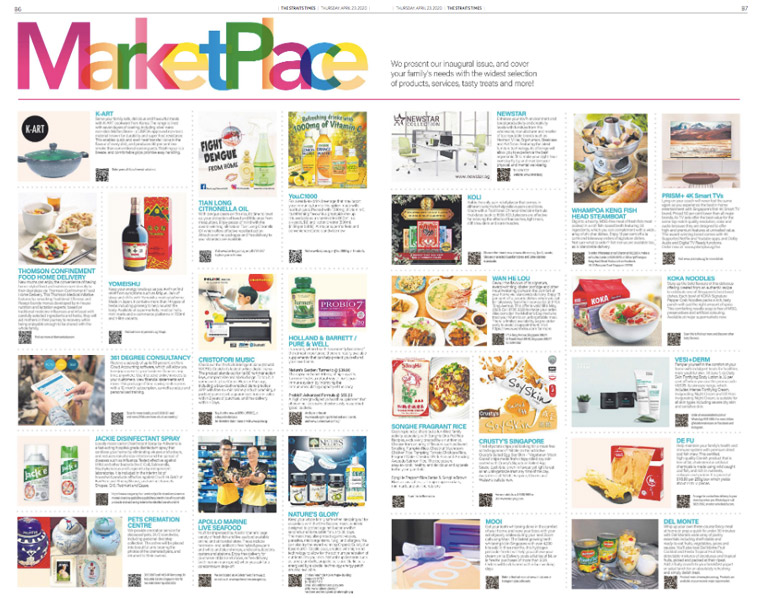 Through initiatives like these, we can continue discovering new ways of making offline media more engaging, measurable, and dynamic and to bridge the offline-to-online gap.