Singapore Press Holdings appeals to print subscribers with The New Paper app
Ideas Blog | 02 January 2018
Print advertising still commands the lion's share of revenue for most traditional media companies, despite huge investment in digital media. However, this stream of revenue continues to be eroded by digital advertising.
At Singapore Press Holdings, we developed The New Paper app as a response to this, leveraging technology to create the experience of reading print newspapers on digital platforms.
Digital media continues to grow in sophistication, receiving huge investments and attention from media companies; yet revenue from digital advertising has yet to make up for the fall in revenue from print advertising. Even so, often, too little effort is spent making the print platform exciting and engaging for readers and advertisers.
For us to continue to charge a premium for print advertisements, we feel it is imperative to bring innovation to the print platform — to make it relevant to readers and advertisers. The interactive and animation features in The New Paper app aim to do just that.
The New Paper app presents its content only in e-paper format, bringing back the rich reading experience of a nicely paginated Web page, with the placement of news based on importance and curated by our editorial team alongside large, creative display advertisements.
This format is overlooked when media companies emphasise only digital-native formats on mobile devices with small banner or full-screen advertisements. Yet most people reading on mobile devices subconsciously block these out without paying much attention to their content. Furthermore, such advertisements pop up midway and interrupt the reading experience. 
The New Paper app provides readers with rich content as well as the ability — in one glance — to decide which portion of the page to read and which ads get their attention.
Readers on e-paper format do not need to be assaulted by advertisements popping up on their mobile screens that interrupt their reading. This also prevents brands from inadvertantly irritating their consumers, while allowing marketers more creativity in designing their display advertisements to fully showcase their brand values instead of executing flashy attention-grabbers. 
Our e-paper format allows readers to mimic the reading behaviour they use with print newspapers, while making content available conveniently. Advertisements and news articles on The New Paper app can be shared and stored electronically, just like newspaper clippings. The easy social media- and messaging apps-sharing function for readers gives advertisers greater reach beyond our print readership. 
Furthermore, readers can interact with the advertisement with quick call-to-action features to call, e-mail, or send text messages to advertisers; or they can go to advertisers' Web sites directly by just tapping the advertisement on the e-paper. 
There is also a function that allows news headlines and advertisements to be searched quickly. Results are presented inside a boxed outline of the news and advertisements containing the required keywords. Readers can decide which advertisements interest them more based on size, placement, and design.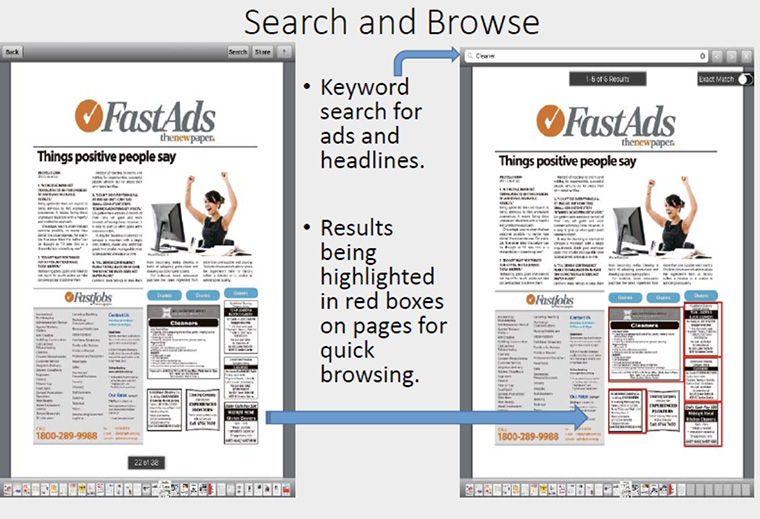 The most ground-breaking feature offered by The New Paper app is the ability for advertisements to be animated, allowing the paper to come alive. These animated gifs can be created by designers even before the exact placement of the advertisements are known.
While most newspapers are paginated only at night for printing, and distributed the next morning, our patented technology allows animation to be added programmatically onto the e-paper version after pagination — without the need of any designer to work overnight on the final page.  This feature helps advertisers showcase their products in a multi-dimensional manner — animation, step-by-step illustration, or a short video.
By offering interactive and animation features in the e-paper format, print advertisers have been able to extend the reach of their advertisements and engage readers beyond conventional means. These patented innovations combine the best of both print and digital platforms, grow the readership of The New Paper for its print format, and garner additional print advertising revenues.