Seattle Times hits home run with bank's print + digital campaign
Ideas Blog | 31 January 2013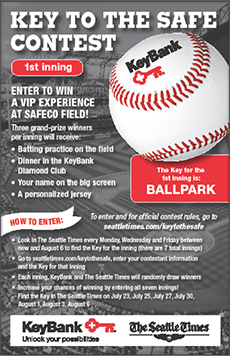 When Seattle-area KeyBank wanted to increase brand awareness in the Puget Sound area, it turned to The Seattle Times for fresh ideas.
Tying in with a baseball theme for the summer months, the Times sales and marketing created the "Key to the Safe" promotion — a digital, print, and social media campaign that spanned three weeks in July and August 2012. 
Readers were directed to an online contest page to enter the "Key Code" for each of the seven innings in the contest. After each inning, three winners were chosen (21 total for the contest) to win a VIP experience at Safeco Field, which included batting practice, a personalised jersey and a "meet and greet" with a Mariners celebrity.  
The marketing campaign for the "Key to the Safe" promotion integrated multiple elements to drive engagement with Times readers: 
On the first day of the promotion, the Sports section of seattletimes.com ran wallpaper, pencil, leaderboard, and 300x600 ads plus one floating ad. The floating ad featured a baseball that came into view and cracked the screen before falling/rolling into the stationary leaderboard and 300x600 ads on the page.  


A print ad also ran in The Seattle Times during each inning and run-of-site banner ads, wallpaper, and expandable pencil ads ran on seattletimes.com throughout the three-week campaign.


KeyBank helped promote the contest on its Facebook page; each inning, they posted a link to the contest as well as the "Key Code" for the round.  
The campaign drew more than 760 entries and increased KeyBank's advertising commitment by 379% in the third quarter.
Of course, the 21 winners had an amazing time taking batting practice at Safeco Field, making the "Key to the Safe" promotion a grand slam for everyone involved.