Schibsted Creation Suite transforms editorial processes, metrics across titles
Ideas Blog | 24 July 2017
Schibsted, the largest Scandinavian media group, is an expert in disruption. It famously launched an online classified business in 2000 that led to the creation of one of the largest marketplace businesses globally.
Yet during this time, Schibsted weathered the same difficulties other media houses faced: declining ad revenue, and later, competition from the giants of the Web, who disintermediate traditional publishers through their unparalleled reach, cutting edge technologies, and deep pockets. 
A significant change was needed. Schibsted began experimenting with changes in its approach to product development. In 2016, Schibsted merged all of its product and tech employees from each media house into one large group.
Whether you were a Web developer working at Aftonbladet (Sweden's largest newspaper) or a user experience designer working for Stavanger Aftenblad (a regional newspaper in Norway), overnight you became part of a large group of product managers, engineers, and designers working towards one common goal: building a new publishing platform for all of Schibsted's media houses.
Originally, most newsrooms had tools built for the print era and its rigid structures, both in terms of workflows and layout. Since then, the Internet arrived and consumers have changed. They expect the content they want, delivered beautifully, within fractions of seconds. Publishing tools need to adapt to this new reality.
Schibsted's new, expanded publishing product and technology organisation came together with journalists and newsrooms to design a tool that would propel them into the future and gird them for competition against Google and Facebook: the Schibsted Creation Suite.
From the beginning, the team building Schibsted Creation Suite stood fast to a key principle. Creation Suite would be a digital-only tool. This no-compromise mentality freed the team to focus fully on the future. Today, Schibsted Creation Suite is in use by all Schibsted media houses, and already it's making an impact.
"The launch of Creation Suite was not only a technological shift but also marked a complete change in both organisation and workflow," reports Espen Egil Hansen, Aftenposten's Editor-in-Chief.
A pleasant, easy-to-use interface is just one factor. The ability to tell unique stories in unique ways allows Schibsted's media houses to take full advantage of the Web's flexibility.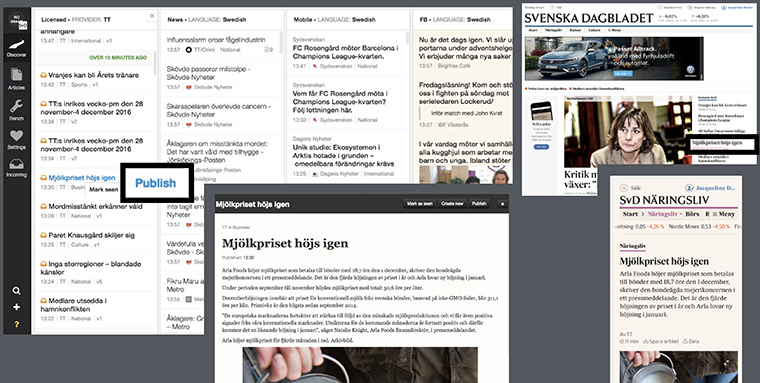 "One good measure is that people like the CMS," says Joakim Ottosson, a project manager at Aftonbladet. "The reporters, who before only used to write the text of the articles, are using more of the different formatting and editing tools, including adding components like images, video, and third-party content like Twitter, Instagram, and interactive elements themselves."
Creation Suite incorporates Big Data to help journalists cover stories more accurately and uncover trends in real time. This allowed Omni, a Schibsted news app in Sweden, to deliver on their promise to cover "All news. All perspectives" 24/7, with an editorial staff of less than 15 people.  
Schibsted Creation Suite also gives journalists the upper hand in understanding their readers through data. A dashboard shows not only what articles interest users most, but also time spent on an article, the lifetime of a story, and when an article peaks.
All of this data is served to the journalists through a personalised interface. Most Schibsted reporters check this at least one per day.
These metrics helped Aftonbladet add editor-curated article recommendations, which tripled an article's effectiveness in driving traffic to other content on Aftonbladet's site, what we call the recirculation rate. Similarly, this data also led them to create curated boxes with more in-depth information including background and commentary, which again doubled recirculation.
Schibsted Creation Suite is only the beginning for this team. Development is already underway on new tools for distribution and monetisation. Schibsted's platform will enable new apps, sites, and experiences for readers, while allowing innovative new business models in addition to traditional subscription and advertising offers.
That can't come at a better time. Journalism faces even greater threats than dwindling advertising revenues and new competitors. Heads of state openly denounce media as enemies of the people and cries of "fake news" undermining the idea of an objective truth. Against this backdrop, Schibsted has chosen an ambitious project to push its journalism forward into a brighter, more sustainable future.