Question for 2014 digital budgeting: butterfly net or bazooka?
Ideas Blog | 25 September 2013
Five years ago, leadership at a small media company in a rural market asked me to help develop their digital strategy. I had one question: How big do you think the business will be?
They had no clue.
Uncovering the answer is a critical first step in moving in the right direction. It's the one thing that every publisher should know before approving any budget involving digital media.
When you're setting out to hunt, do you need a butterfly net or a bazooka? Most people start with the net and continue to hone butterfly-hunting skills.
The process I'd like to tell you about involves far bigger game.
Back to the small media company.
The company's digital revenue back then was about US$300,000, which seemed to be a respectable number of butterflies. But their potential was US$2 million — a number they frankly found unbelievable.
When I walked them through the process of how to calculate their potential, I showed them that advertisers in their small market were spending US$20 million on digital advertising. Then I showed them that other "best practices" media companies across the country were making a minimum of a 10% share. Some were making 15% to as much as 28%.
They began budgeting for tranquilizer darts and high-powered rifles. In four years, they went from about US$300,000 to US$2.4 million.
Had they been satisfied with incremental budgeting – say, 30% per year, they'd be making US$660,000. Yet 30% might sound pretty good to most local media companies.
The key is figuring out potential. The formula is simple, but comes with a caveat: When you calculate the number, it's likely to scare you, especially if you compare it to what you're currently making.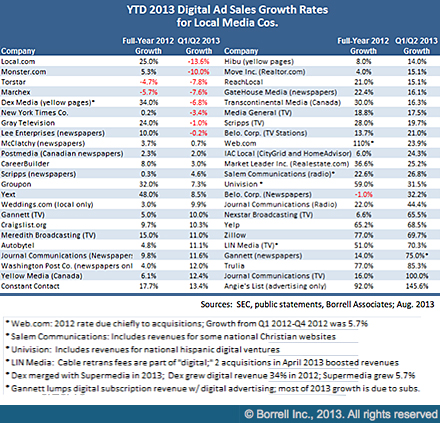 Here's how it works:
Calculate your total gross revenues from online advertising in 2013.


Go to www.borrellassociates.com/dmr and find out how much local online advertising was spent in your market. (Note: This is available only for U.S. markets. For local data from Canada or the UK, send email to info@borrellassociates.com.) Choose the Digital Marketing Region, or DMR, option. Selecting a county or CBSA option doesn't work with this process.


Divide your 2013 revenue into the 2013 market estimate. That's your market share.


Multiple the 2013 spending (from #2) by 10%. That's your minimum market potential.
If your market share is already more than 10%, you're a "best practice" company and probably should start shooting for "absolute best practice," which is 20% to 28%. But those best practice companies represent a very small portion (less than 5%) of all newspapers.
That 10% can be a scary number, especially if your newspaper is making less than 2%, as many are. But there's a lot of power in thinking big.
There's even more power in thinking realistically.
The small media company that went from US$300,000 to US$2 million started out with this process. By thinking big — in a realistic way — the company's management was able to request resources commensurate with the size of the market they were pursuing.