Politiken turns reader registration into a game
Ideas Blog | 07 February 2022
Games and quizzes have long been popular content amongst readers, and their interactive quality is highly engaging.
Politiken capitalised on these benefits when creating a new campaign that would provide entertaining and engaging content that would attract both subscribers and non-subscribers to register at Politiken.
The result was "The Bezzerwizzer Christmas Battle," a fun and competitive game between Politiken readers and journalists over the 2020 holiday season. For each of the 24 days leading up to Christmas, readers were invited to challenge one of 24 Politiken journalists at his or her specialised topic, with the chance to win a daily prize.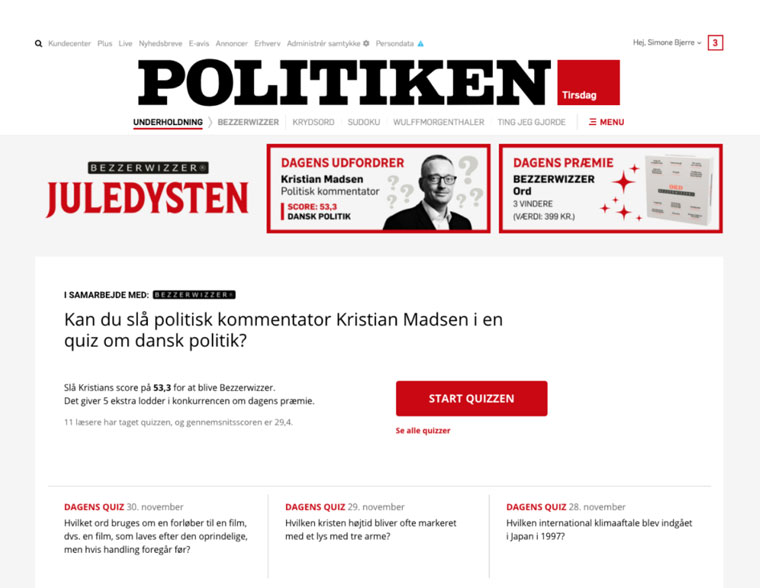 The battle was developed in collaboration with Bezzerwizzer, a Danish developer of quizzes and board games, to create fun and engaging questions. Topics included everything from politics and climate, to TV shows and movies, to literature and romance.
Each day from December 1 through December 24, a new quiz appeared on the Web site homepage showcasing the journalist and topic of the day, followed by a series of questions for readers to answer. At the end of each daily quiz the prize was revealed, which could be anything from a board game to a year's digital subscription to Politiken. 
Register to win
To take part in the prize drawing, the user needed to complete a registration form. If the reader beat the journalist's quiz score they would be awarded an additional five tokens in the drawing, increasing their chance of winning and giving them further incentive to register.
Registration initiated a 24-day personalised journey for the reader. Each day they received an e-mail in which they were encouraged to compete against the journalist of the day. The e-mail also contained a calendar in which the reader's quiz score for the previous day(s) would appear if they had participated.
Goals and results
"The Bezzerwizzer Christmas Battle" served two purposes for Politiken: 
Registering and gathering first-party data and advertising permissions from non-subscribers.

Providing a fun and engaging daily activity for everyone, subscribers and non-subscribers alike.
When the campaign launched on December 1, two marketing strategies were set in motion. However, these strategies were different for the internal and external channels of digital marketing.   
Internal strategies
Since 60% of Politiken's Web site traffic comes from anonymous users, gathering first-party data from these unknown users was of very high value. To increase the chances of capturing their attention, the team used existing ad spots on the homepage, along with pop-ups to encourage users to visit the quiz page. 
The aim was to make the content engaging in a relevant way to the user, so the team created special pop-up formats that would only show when a user was reading an article written by the "journalist of the day." The pop-up encouraged the reader to challenge that very same journalist in the day's quiz.
External strategies
Externally, the team made use of both Facebook and e-mail marketing to reach non-subscribers, as well as keep current subscribers engaged. When the campaign launched, an introductory e-mail was sent to subscribers and non-subscribers who had already agreed to receive direct marketing. 
This proved to be especially effective regarding subscribers: 6.4% took part in the quiz directly from this initial e-mail. On Facebook, a combination of personalised and generic ads were used to showcase the featured journalists and editors. This tactic worked well, garnering almost 600,000 views, 25,000 clicks, and a CTR of 4.36%. 
Politiken won the battle
"The Bezzerwizzer Christmas Battle" resulted in a total of nearly 400,000 quizzes taken by readers, with an average of 16,413 contestants per quiz. 
At the end of the campaign, Politiken had gained 8,712 new registered permissions (this number is after users who withdrew their consent during the contest were removed). Approximately 25% of these registrations came from non-subscribers, which will now allow Politiken to reach new audiences.