NWZ reduces churn by strengthening subscriber relationships
Ideas Blog | 11 March 2019
A good marriage requires hard work to keep the love alive — and maintaining a strong, close relationship involves time and effort. Let's be honest: Looking back at our relationships with our subscribers, we haven't always been the perfect marriage partner. We did our duty. And we did our best not to make mistakes — or at least we tried to correct them right away.
There was a time when newspapers and subscribers needed each other. We were used to each other. And for a very long time we got along very well. But it was a marriage driven by reason rather than by love. When other charming players entered the stage (this good-looking Mr. Internet or that attractive Ms. Facebook), the news media industry started to lose track of its role in the relationship.
Times are gone when a subscriber relationship hinged on simply knowing their address and banking data. Having a newspaper subscription is no longer a "must do." It's rather a "can do." This means changing our attitude toward the relationship.
At NWZ, 2018 was a year dedicated to deeper relationship work. We wanted to figure out how to bring back the love to our (symbolic) marriage with subscribers and keep it alive.
The first step in our journey was to identify all the good things we thought we were already doing for the relationship and see if we can bring them a little bit more into focus. This is why we started the NWZ Vorteilswelt "Ein Abo – viele Vorteile!" benefit programme. Now our subscribers can access all advantages and perks in one place.
The next step was to increase the number of possible touchpoints with our subscribers. We accomplished this with:
Integrated online paid content offer with our print subscription: This increased our share of subscribers with a digital user account from 25% to more than 45%! The offer increased the value of our print subscription and brought more print subscribers into our digital world — an important step to increase future brand contacts, provide more up-to-date news even after the printing deadline, and offer a broader variety of valuable advantages.
Monthly e-mail newsletter featuring price advantages on event tickets to exclusive competitions. We enjoyed high opening rates between 40-45%.
A weekly page featuring current advantages and offers.
Twice-a-year print publication with discount vouchers for our newspaper edition.
We integrated Vorteilswelt and many self-service elements of readers' accounts and subscriptions into our mobile news app.
To be more approachable, we added direct contact data for all of our journalists and launched a series of reader participation events, such as "The blue carpet" behind-the-scenes visits to local companies or "The blue armchair" panel discussions. We also now regularly invite readers to take part in our editorial conference or come and visit our printing house.
More active use of Vorteilswelt in our sales communication.
New opportunities for our business-to-business sales team by offering new environments for ad messages and new formats for partners to present themselves.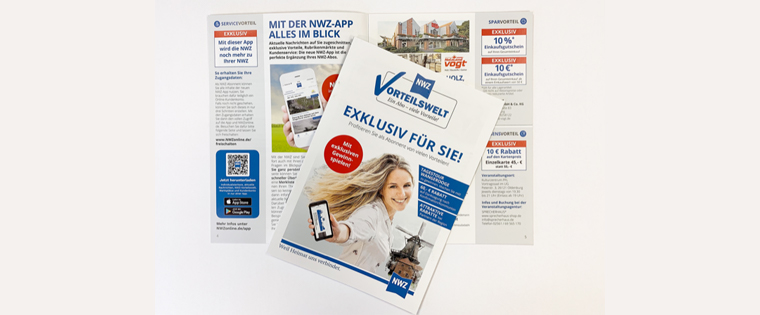 In 2018, we also implemented a new CRM tool that will help us to improve and learn more about our individual (groups of) readers, integrate marketing automation into our communication, and use this for building closer relationships.
With these efforts we already have seen the positive effect of a .7% decrease in our churn rate from 2017 to 2018. Hopefully our "divorce" rate will continue to decrease over time, and we will all grow together stronger to form a community that will be attractive enough for new members.