News Corp Australia's Storyful powers successful ad campaign for college
Ideas Blog | 05 September 2016
News Corp Australia's social media content aggregation platform, Storyful, recently powered a highly successful ad campaign for Endeavour College, Australia's leading higher education provider of natural health courses.
Throughout the year, Endeavour hosts four open days for potential students to learn more about their campuses and courses. The client was looking for a way to expand the reach of its October 15 open-day message in an innovative way to encourage their target market to register and attend.
After researching the client, we discovered the college had an impressive number of alumni that had amassed a huge amount of followers across social media, including food and health bloggers, ranging from Lola Berry to Reece Carter to My Whole Food Romance.
This provided an opportunity for us to leverage the success of these graduates by integrating content from them, which aligned with the Endeavour College brand — and we instantly knew Storyful was the perfect platform to accomplish that.
Storyful is a platform attained by News Corp in December 2013 that sources, verifies, and acquires authentic social content, while also engaging readers through real-time conversation and social curation.
Social Lumberjack is a desktop-only social aggregation module that allows clients to display user-generated content within a high-impact interactive component, accompanied by "skins" and two tabs. Users can navigate through the module seamlessly while engaging with the client's key messages. 
Through the use of Storyful and a customised Social Lumberjack, we aligned Endeavour College's brand with relevant aggregated social media content by using filters, such as hashtags (#endeavourcollege), keywords (health, nutrition), and influencers (@yummololaberry).
To create this solution, we utilised the skills of the full News Corp Australia Commercial Integration Team, including producers, developers, integration managers, and the Storyful team, to deliver a Social Lumberjack module that fit seamlessly into the client's site and, consequently, provided impressive results.
This campaign succeeded in part due to unprecedented collaboration and planning across multiple stakeholders. This included regular check-ins involving the client, Storyful team, producers, and developers to ensure a successful campaign.
We also received an incredibly detailed brief from the client around what content was vital — and, just as important, what content should be avoided. This, partnered with our creative talent, allowed us to produce a beautiful product that contributed to the success of the campaign.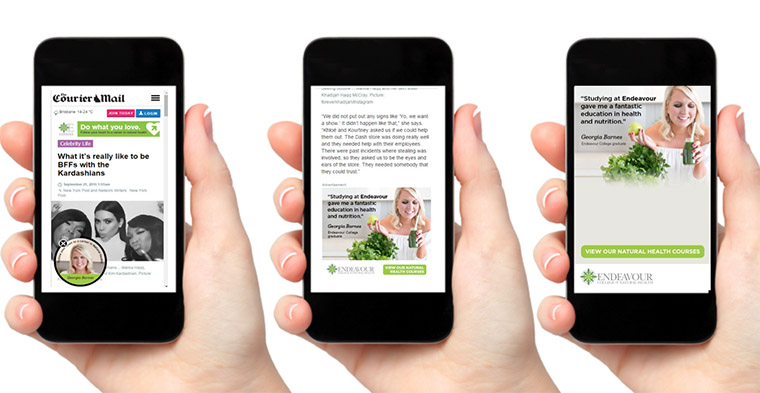 The campaign for Endeavour College surpassed all targets and stakeholders' expectations, while demonstrating the value of this new form of technology:
The client had the highest number of registrations for an open day, historically and nationally. 


During the four-week campaign, News Corp Australia delivered 428,207 impressions, which was 178,207 more than originally forecast.


The Social Lumberjack also had an average time of three minutes, 29 seconds spent interacting with the ad unit, equating to .78% interaction rate. 
After the success of this campaign, Endeavour College followed with another Storyful campaign in January on news.com.au, which again delivered impressive results and great success for the client.