Metro reaches younger audience with Justin Bieber competition
Ideas Blog | 26 March 2014
Metro's Global "Guest Editor" initiative has scored superstars including Lady Gaga, Richard Branson, and Karl Lagerfeld, proving that we have a unique track record of partnering with such heavy hitters to create international headlines, reach new audiences and build the brand.
For our latest worldwide effort, we targeted a younger audience — our future readers — by working with teenage idol Justin Bieber. Loved by millions of young people around the world, Bieber partnered with Metro for a St. Valentine's Day campaign that exceeded all expectations.
The Canadian pop phenomenon who has topped every music chart is the most followed person on social media of all time, with millions of fans online – the ever loyal "Beliebers." Bieber has 35 million followers on Twitter and nearly 52 million on Facebook.
Metro ran an exclusive interview with Bieber in our "Love Edition" (February 14, 2013), and held a special contest. One lucky winner could win VIP tickets and meet the star himself at one of his European tour stops — a dream-come-true for many teenagers and a brilliantly implemented social media campaign on Metro's side.
Working with Bieber delivered scale-breaking results for Metro, focused on the readers of the future, recent graduates, and the working young.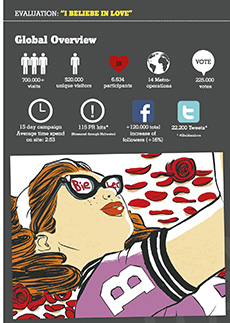 The contest was conducted using a Facebook app on Metro's global Facebook page, which redirected contestants to the relevant local pages where it could create the most impact. We created house ads that pushed Facebook and hash tags for maximum impact.
To enter, participants were required to upload a photo showing where they would like to take Justin on a Valentine's date. Photos were then voted on, and the 50 with the most votes were presented to a global jury. The statistics of the competition showed impressive results:
700,000+ visits on the Facebook page.


120,000 new followers on the Metro Facebook page.


225,000 votes during the 15 days of the campaign.
One of the most important parts of this campaign was finding the right tone of voice in talking to the Beliebers. News of the contest was pushed to Justin Bieber's fan pages, blogs, and forums to maximise the buzz, engage the fans, and motivate them to continue sharing, tweeting and blogging in the spirit of true Beliebers.
A simple activation in the right moment with the right face on the campaign was quick to deliver maximum engagement and conversion rate.
Giving fans the chance to meet their idol was what resonated with the audience. We knew from previous competitions that the most effective way to attract people is to reward the participants with something almost untouchable; something they would "kill" for.
With a unique partnership with Universal Music, Metro was able to offer one winner VIP concert ticket to one of Justin Bieber's "Believe" concerts and a personal meet and greet.
With participants from all over the world submitting creative "True Belieber" photos, one girl outshined them all. With more than 9,000+ votes and 5,000+ likes of her picture, Valeria Viteri from Peru outranked all other participants with her happy festive situated photo.
The 15-year-old said: "I ran to read the printed copy of Publimetro and started working on my picture. Meeting him is my dream."