LNP Media disrupts local politics with exposés in print-only weekly publication
Ideas Blog | 22 August 2018
When LNP Media Group launched The Caucus in January 2017, we had a clear and simple mission: Go big.
The Caucus promised to serve as watchdog on Pennsylvania government, be fearless in its reporting, and hold the powerful to account — all functions of a robust free press.
But our approach would be decidedly unique.
The Caucus does not intend to compete with the dozen or more statehouse beat reporters filing updates daily, or even hourly, from the Capitol. It takes no interest in the pedestrian machinations of the legislature. It runs away from coverage of process.
The Caucus reporters knew there were big stories waiting to be told. How big, though, only time would tell. In its first 15 months, the staff of three reporters exposed:
More than US$8 million in payouts by the Pennsylvania State Police to people alleging sexual assault or discrimination.
Allegations of verbal abuse against the lieutenant governor, coverage that prompted the governor to strip him of his security detail and mansion staff.
Nearly US$1 billion had been spent on a statewide emergency radio network that didn't function properly and put law enforcement at risk. The Caucus told readers how and why things went so wrong.
A private complaint filed in the state House of Representatives by two women alleging a sitting legislator had physically or sexually assaulted them. One of the women is also a sitting lawmaker who eventually obtained a protection order against her House colleague, an extraordinary circumstance in Pennsylvania government. The Sunday New York Times eventually followed up with an A1 story.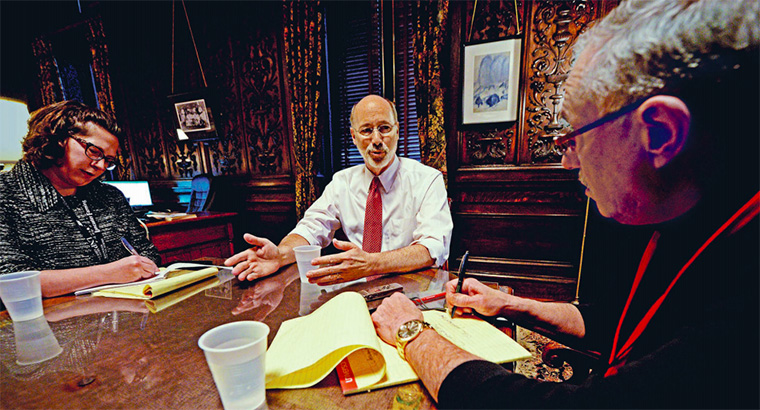 A few other things also make The Caucus unique ... 
1. Print only? Yes. Print only.
The Caucus is a print-only, weekly publication delivered to roughly 400 movers and shakers within Pennsylvania government. Copies are sent to the governor, members of his cabinet, and state legislators every Tuesday. Single copies are sold at locations around the state Capitol building in limited quantities. In other words: If you don't get it, you don't get it. And if you're in the halls of power, or simply want to know how your tax money is being spent, The Caucus is a weekly must-read.
2. The Team
To make the dream of a better Pennsylvania happen, we assembled a team of top-notch staffers, each with his or her own unique skill set:
Mike Wereschagin is a data journalist who previously worked for an investigative team at a large metropolitan daily newspaper.
Paula Knudsen is an investigative journalist who holds a law license and is an expert on government transparency laws in Pennsylvania.
Bureau Chief Brad Bumsted is a veteran state government reporter and the author of two books on political corruption in Pennsylvania.
Sam Janesch is a politics reporter who knows who's angling for what position before most others.
3. What's in The Caucus
The Caucus is steeped in deep-dive investigative work aimed to shake and shove Pennsylvania government toward greater transparency and action. Our reporters are like detectives, ferreting out fraud, forgotten commitments, and foul waste. They find and expose a big story every week, plus other regular features in every issue of The Caucus include:
Overheard on 3rd: A rousing, conversational column reporting out the latest Capitol gossip.
The Interview: An in-depth Q and A with an elected or appointed official in state government or a prominent figure in Pennsylvania politics and government.
History Column: For those who worry about being doomed to repeat history, this column is about the major events in Pennsylvania political history from years, decades, and even centuries past.
The Map: A data visualisation centered on a matter of recent public policy.
Happenings: Curated lists of upcoming political fundraisers, Capitol rallies, and important legislative committee hearings.
Commentary: Pennsylvania-focused opinion columns from prominent political analysts and former legislative staffers.
The Caucus has been met with trepidation in Pennsylvania's political classes, an occasional threat of legal action from elected officials, curiosity among the Capitol press corps, and glee among good-government advocates and reform-minded lawmakers.
Our reporting has prompted legislative hearings, forced the public disclosure of once-hidden records, and put one of the most corrupt legislatures in the United States on notice that investigative journalists — and the public — are watching their every move.
We said we'd go big. We're looking to go even bigger.