LNP creates glossy, branded content magazine for advertisers
Ideas Blog | 11 October 2020
LNP Media in Lancaster, Pennsylvania, United States, wanted to create something that would provide business owners in Lancaster County with a unique platform to reach readers. Instead of simply creating ads that told readers who these businesses are, LNP Media created a beautifully designed magazine, Balance, to explain who these businesses are, why they are experts at what they do, and why it is so important to support them.
LNP had often heard from businesses that, while the newspaper's sizeable circulation was attractive to them, newspapers simply didn't fit with their brand. With the creation of Balance, LNP developed a magazine that answered all of the objections and checked the boxes advertisers were looking for.
The idea behind the branded content magazine was to take a much different approach than the newspaper, offering readers a glossy publication that rivals independent high-end publications. Filled with stunning on-site photography and relatable stories about the county's businesses and the people who run them, the magazine is as visually appealing as it is newsworthy.
And the formula proved to be a winner right out of the gate.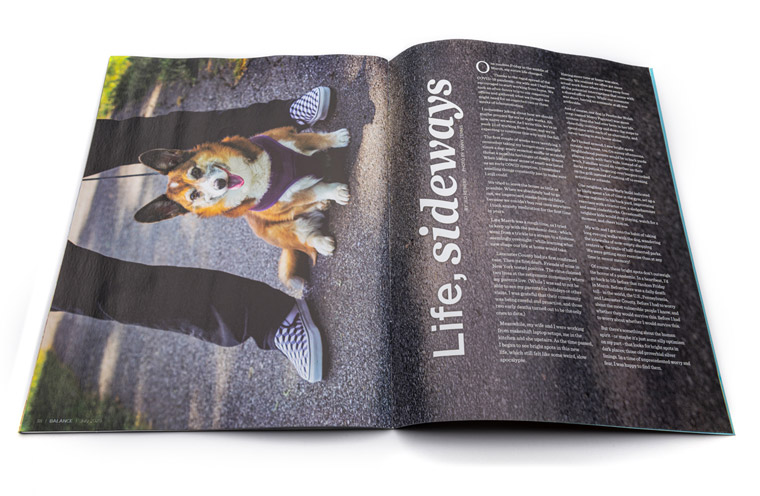 With its first two editions, Balance attracted 14 advertisers that had either never advertised with LNP before or who had not been an advertising customer for one or more years. Advertisers found the new product enticing enough to want to try it, and the response from advertisers was immediately overwhelmingly positive.
Two-thirds of the advertisers in the first two editions of the magazine were current newspaper advertisers, and the magazine also accounted for an incremental 10% increase in ad sales to the company's monthly advertising budget.
Responding to readers
'

interests

Initially, each issue of Balance had a theme; the first issue, which was published in the fall of 2019, focused on Change. The winter issue carried a theme of Renew. After that, as the magazine's readership grew and the publication gained momentum, the editorial team saw it fitting to loosen the idea of themes to allow for a larger range of topics and interests.

"We made sure to focus on topics that our readers were responding well to," explained Balance Editor-in-Chief Lindsey McCallum. "Going into spring, we had a focus on alternative health, which was a huge success and shaped our focus with the issues that followed. We are always making sure to maintain our main sections — wellness, home, trends, travel, food, etc."

When the COVID-19 pandemic hit, the magazine shifted its focus to remain relevant to locked-down readers while providing benefits to advertisers.
"Our summer issue did a heavy home and wellness focus, because that helped us appeal to advertisers that were in a position to spend money with us, but also because our readers are looking for that kind of content right now, too."
Although both print and digital advertising revenue saw rapid declines as COVID-19 marched around the world, McCallum said advertisers continued supporting the magazine and the page count of the summer issue was only four pages less than previous issues. Aware that readers were cooped up during quarantine and looking for more material to read, they provided a special option that allowed established advertisers to continue running ads at a reduced rate.
"A few took advantage and were grateful," McCallum said.
Thriving in a pandemic environment
As the magazine celebrates its one-year anniversary on October 1, it has already returned to its pre-COVID page count and is at 114% of its sales goal. Just as with previous issues, McCallum said the editorial content takes a cue from readers to know what will interest and engage them.
"Our content is still focused more on wellness and home, but we are also touching on fashion trends, too," she said. "We wanted to bring a little normalcy to our readers who might need a break from COVID news."
A condensed version of this case study appears in INMA's September 2020 report Why Branded Content Fits This Advertising Moment, free to INMA members.