Live experiences boost The Athletic's already robust subscription efforts
Ideas Blog | 22 February 2022
The Athletic's subscription journey began in 2016 with the fundamental desire to fill a void of premium content. Paul Fichtenbaum, chief content officer for The Athletic, said many outlets in the sports world were pulling back on coverage and relying on aggregation, which is attached to advertising dollars. The Athletic went a different direction with a subscription model.
"I think you'll probably agree a subscription model is a slow grower, but it's also a very dependable user base if you create content that is valuable — and that's really the key," Fichtenbaum said.
Fichtenbaum wanted to ensure The Athletic was creating something that was a necessity and not just a luxury item: "We know sports fans are very passionate about their favourite teams, but very passionate about the national conversation also."
They created a premium product that super-served fans — a bundle they believed would be very difficult for other outlets to compete with. They focused on deeply reported stories that weren't being told by competitors. Without worrying about advertising dollars, they were able to tailor their content to a different audience. 
"When I was recruiting, when I was talking to writers out there, what I used to tell them was, 'We need you to create content that's going to be better than the person sitting next to you in the press box,'" Fichtenbaum said.
Now, about two years into its subscription journey, The Athletic spent 2018 and 2019 growing its global workforce. They went from one local site to about 50 local sites, and at one point were hiring a person a day to keep up with demand. In turn, they saw their subscription base grow and surpass 1 million paying subscribers in 2020.
"We found a very large group of sports fans who were very interested in getting stuff that was top-notch quality," Fichtenbaum said.
Building on success
Once The Athletic started seeing success, they didn't just stop there. They kept listening to their readers, Fichtenbaum said: "They were looking for a place where they can get all of their sports coverage in one place. We took that seriously. That meant covering news in a different way than we had been."
Sticking to the original plan of providing a boutique site with premium coverage would have been an easier route to go, but would have provided a much narrower path moving forward, he said.
"We understood the massive opportunity in front of us to not only create best-in-class premium content, but also appeal to a much wider audience," Fichtenbaum said.
The Athletic then wanted to capitalise on its large audience by adding a second revenue stream through sponsorship. In early 2020, The Athletic decided to offer another product for free. That content was supported by sponsorship and it helped drive people to the premium paid content The Athletic had to offer. They were careful, though, to make sure the content was complimentary to their brand, meaning high-level news. 
"We did that by using our newsroom, which I believe is the largest sports newsroom in North America," Fichtenbaum said. "We brought in experts to analyse and weigh in on the meaning of news and immediately we knew this was a very powerful approach."
In September 2020, The Athletic launched this news product with about 10 stories a day that focused on the most transcendent sports news on a national level. They asked for specific analysis that took the reader deeper into the story using a Q&A format below the news story.
"In combination with the news story, along with our differentiated analysis from experts, we created something that other outlets weren't doing," Fichtenbaum said. "And the feedback was very positive."
Fichtenbaum said they not only were able to create a free product, but a free product that was in line with the premium content strategy for The Athletic. From there, after months of success, they added yet another layer to their strategy by paying closer attention to search so they could capture readers from Google and showcase all their hard work. 
"This was another avenue for us to grow our audience," Fichtenbaum said. 
Adding live experiences
In early 2021, The Athletic looked to add in live experiences to serve readers with updates on news events.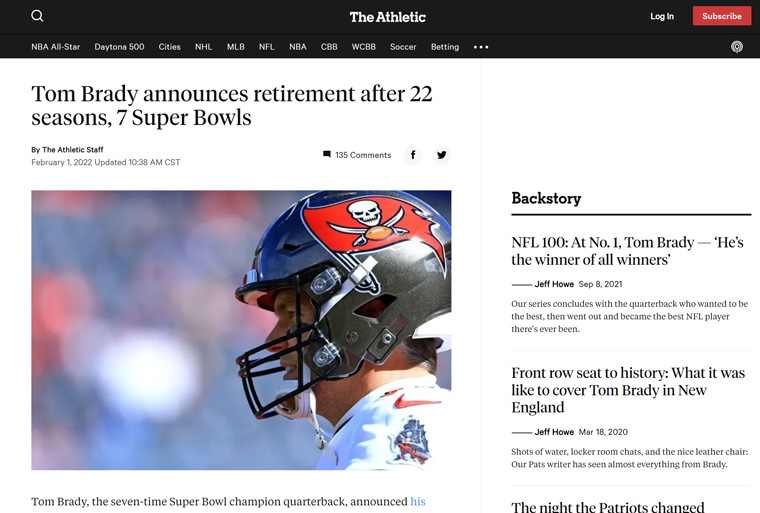 "We kept updating that news as it developed and as it warranted," he said. "This is also free content and not behind a paywall. Within these live experiences, we also took that opportunity to embed deeper coverage from our experts."
The Athletic used that embedded premium content to push people to the paywall. They just used this strategy with the recent news of Tom Brady's retirement.
"We quickly fired up a live experience along with our news story and as reaction and analysis came in, our live experience kept updating and the results were impressive," Fichtenbaum said.
They pushed people to read some of the stories they reported on Tom Brady through the years.
"It's the best of both worlds," Fichtenbaum said. "A free experience that allows you to get as many people as possible into the top of the funnel, have them have a good experience there, and push them to premium content to gain more of a subscription base."
Editor's note: On January 6, 2022, The New York Times announced it was buying The Athletic for US$550 million.