Like bread at the bakery, quality journalism has a price in this pandemic moment
Ideas Blog | 30 March 2020
The coronavirus is driving the media. Not only because everyone works on content day and night and achieves great things — far-reaching decisions must also be made strategically. 
People like German satirist Jan Böhmermann appear on the scene and say on Twitter: "Tear down the fucking paywalls now." Others rave about the media as crisis winners, telling them they have a duty to provide information and that they are not dealers — contributions about the Corona Crisis should be free for everyone. 
The news industry, and above all independent quality titles, must take decisive and self-confident measures. You are on the right track to take a decisive step forward in the digital transformation process: Thousands of readers are willing to buy and pay for independent quality journalism. That was the case before the Corona Crisis, but it is now noticeably increasing. 
Paywall that deters
It would be a fatal mistake to make content free of charge, even selectively. Instead, the motto should be: Now we do it for the benefit of all. We do valuable work that costs a lot. Readers appreciate that. This enables us to get significantly closer to the goal of transformation: that we can finance ourselves from reader revenue. The motto must be: "Get transformation done."
"Tear down the fucking paywalls now," Böhmermann says. The satirist's declaration of war points to a sore point. The word "paywall" alone shows how difficult it has been for the industry since the turn of the millennium to develop a reasonable business model in digital. Paywall? The word is so daunting that it is not surprising when tender minds like Böhmermann feel compelled to make aggressive statements. No baker would have the idea of ​​putting up a warning sign at his entrance that indicates restrictions on use. Synonyms such as "paygate" or "payment barrier" are not much more inviting. 
One thing is clear: Words like "paywall" were invented by people who didn't believe in digital in the early days of the Internet and who had only two goals:
To maximise advertising revenues with reach on the Internet.
To prevent cannibalisation of print. 
Back then, nobody believed that digital could become so strong and attractive that it finances itself. And nobody hoped.
Now it is becoming clear that it can be so if independent quality journalism is to have a future. This is precisely why it is important not to tear down the paywalls, to connote them differently, as a justified price tag for complex and important work for the public. Get transformation done. 
Trust is the main currency 
Böhmermann is not alone in his demand. The call that media in the Corona Crisis should loosen their paywalls or take them down altogether can be heard here and there, Twitter co-founder Biz Stone says: "Fake news is free. Real news is behind paywalls. Please remove paywalls during the Corona Crisis."
For a market like the United States, this may be justified in times like these. There, strong media players are of a completely different size, public service does not play a significant role, and Trump is the miracle healer who declared war on the "Chinese virus," as he calls the new coronavirus. Titles like The Atlantic or The New York Times consciously build a counterweight and have followed demands like Stone's. 
Yet there is a fundamental and vehement response to the situation in Switzerland and Germany: No.
According to Stone's logic, should the baker also give away the healthy dark whole grain bread free of charge now that the immune system needs to be strengthened? Perhaps we should be printing massive numbers of printed newspapers to give away for free? 
The reference to the fake news debate is particularly worth considering: It is indeed the case that the reliability and sources of information on the Internet are more difficult to assess. The one big currency is all the more important: trust. Credibility is the greatest asset of independent quality media.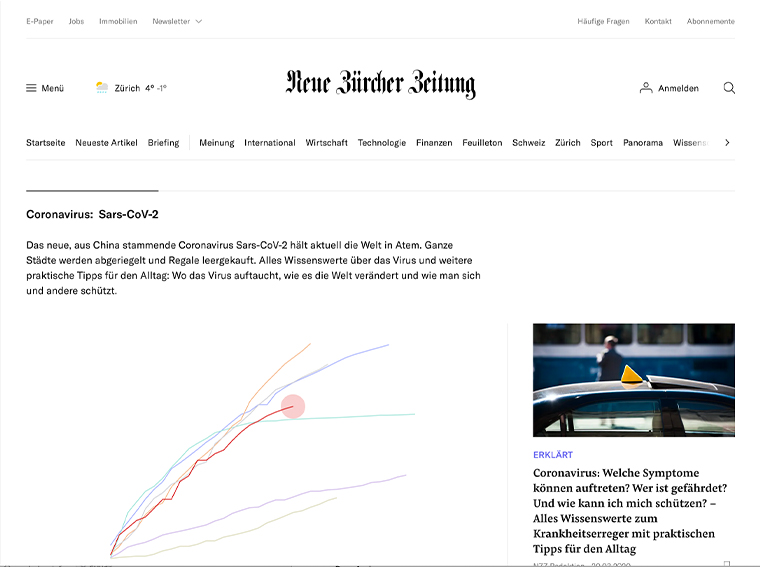 On the one hand, in German-speaking countries, there is the public service, which is well equipped with taxpayers' money. On the other hand, there are independent titles with a profile that offer diversity and depth, which you can agree with or be annoyed about. At best, you trust them.
In any case, the primary goal of every title must be that readers return the respect it shows — and are willing to pay. If this succeeds, such titles have a future. Otherwise not. Get transformation done.
NZZ costs as much as a pizza
The discussion in the course of the Corona Crisis shows this as if under a microscope: In the digital transformation, quality titles like NZZ are at a crucial point. Three out of four steps have been successful so far: 
First, corporate strategy is geared towards growth in the digital reader market.
Second, the entire editorial team is focused on digital content.
Third, processes and products are centered on digital customers.
Step four remains: The message must be consistently and even more confident than it is today that independent quality journalism has a price tag in the digital world — even in times like these, especially since the low prices for online products do not exclude anyone. One is about the price of a pizza prosciutto and a beer a month.
To say that clearly is not outrageous. It is honest and requires a decision from society or from each individual customer: Do I find it important that there are strong independent titles like NZZ in addition to the authorities and the public service? 
Advertising and print are becoming dramatically less important for publishers. Above all, it means quality titles like NZZ digital can attract more paying customers. The insight in the industry is there: The appreciation on the part of the readers grows as does the willingness to buy. It is now all the more important that quality media in German-speaking countries unite and confidently represent that their content costs. 
The reader is king: What does that mean for journalists in everyday life? At NZZ, too, the consequence of reader focus has caused intense discussions — and still does. Strategically, it means that we want to be interesting, accessible, pointed, profiled, analytical, visually strong, credible. 
In concrete terms, this also means that we measure and evaluate exactly what interests the reader. We do not strictly follow it, and our own journalistic discretion has the last word. But we want to offer readers added value and access to important issues that take their needs seriously. This is only fulfilled if they also deal with our offer, and you can measure that. 
That is easy to say and must lead to trust internally and externally, continuously and critically. This is difficult, often emotional. But with any independent quality title it is a task that is time-consuming and correspondingly expensive. But also here: Get transformation done. 
Revenues decrease, reach increases
Not surprisingly, we observed today that across the industry reader interest is increasing rapidly. The NZZ newsroom inspires us to look at the numbers. Wherever you look, everything is rising. Massively more people use us. Massively more people register. Massively more people take out subscriptions. This is gratifying, even if it does not compensate for short-term losses elsewhere. 
It is all the more resolute that the industry has to resist the temptation, at least in the German-speaking countries, to give in to demands such as those from Jan Böhmermann or Biz Stone. The news industry is about to make the original sin forgotten: to give away digital content free of charge — and then you switch back to reach and secondary effects. 
The initially bad reputation of online journalism, which dates from the period after the turn of the millennium when many still believed that the Internet would eventually disappear, has long since disappeared. Some still have the sayings of seasoned editors who defamed digital as a fast track and a boulevard and made one understand that the Internet would go away.
It's completely different today. The best writers, graphic designers, podcasters, data and video journalists are also online. Everyone knows that long and profound articles are used intensively online, that their work is digitally valued, and that its reach has reached record-breaking proportions. 
To put it bluntly, revenue is falling at NZZ because advertising and print are declining. But the individual journalist is being embraced as never before. The content is valuable, and journalists and publishers invest cheerfully in infrastructure and skills. And readers pay so that they are informed and inspired at a high level.
Get transformation done.