Largest online shopping site in Finland at center of Sanoma's e-commerce ecosystem
Ideas Blog | 27 April 2015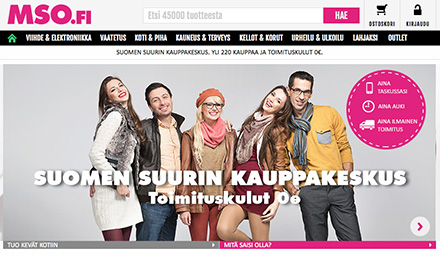 E-commerce has many definitions – maybe too many, says Marja-Leena Tuomola, COO of Sanoma Digital. "In Sanoma, with e-commerce we usually mean the sale of physical or digital products and services through digital sales channels." 
She defines a "sale" as one in which the product is ordered and paid online, but the delivery in the case of physical products (or consumption of a service) is a separate action offline.
There are also "borderline" sales, such as when the product is either ordered online and paid for and picked-up offline in the store or postal office, or is ordered and paid for online in an e-commerce retail store and then delivered to the home.
For the sake of clarity, Sanoma's e-ecommerce revenue is defined in its financial reporting so that it does not include the sales of Sanoma's own media products (print/digital). Therefore, sales of Helsingin Sanomat digital and print subscriptions via digital sales channels are not defined as e-commerce. 
So what are Sanoma's e-commerce activities? Tuomola lays out their services as follows:
1. MSO.fi (launched September, 2013):
The biggest online shopping center in Finland.

More than 200 retailers.

More than 40,000 SKUs.

One-stop shopping for consumers (one shopping basket and check-out for multiple shops).

Expanding into logistics in partnership with warehousing and logistics providers.
2. Huuto.net:
The leading online auction Web site in Finland (comparable to eBay).

Sales options include fixed price — "Buy Now" and "Make an Offer."


1.7 million used and new items for sale.

C2C and B2C sellers and buyers.

Logistics services available through the Huuto.net platform.
Group buying service for people making renovations to and building their homes (DIY, or do-it-yourself, home builders).

Electricity group buying.


Different kinds of renovation, construction and gardening materials, and home electronics/appliances.
In addition, Sanoma offers the following services, which are closely related to the e-commerce realm, even though they are not considered to be e-ecommerce as such:
Price and product comparison service Hintaseuranta.fi.

Electricity comparison Sähkövertailu.fi.


The biggest real estate, recruitment, and car classified service in Finland, Oikotie.fi.
These e-commerce streams result in display advertising revenues, sponsorship revenues, monthly fees, and commissions from retailers.
"Our existing e-commerce strategy is based on ramping up the MSO.fi and other e-commerce assets to create an e-commerce ecosystem around these assets, together with relevant logistics and distribution partners in Finland," says Tuomola.
The strategy has brought new customers and revenue to Sanoma.
"Firstly, more than 60% of the MSO.fi retailers are totally new B2B customers to Sanoma –  these retailers have not bought any advertising from Sanoma earlier. 
"Secondly, e-commerce services are part of the sales budgets (and not marketing budgets) of the retailers, which Sanoma has not been able to reach earlier with the traditional media portfolio."
Sanoma's e-commerce assets and online classifieds services are closely connected to the big news Web sites, and also to Sanoma Media Finland's newspapers.
For example, MSO.fi is integrated into HS.fi and has joint print campaigns with Helsingin Sanomat within the newspaper, as some of the retailer customers are joint customers of both the newspaper and MSO.fi.
Another example is that there are frequently articles on the news Web sites on the items for sale in the e-commerce assets (e.g., unique and interesting items on the auction Web site), which drives traffic to the e-commerce Web sites.
Like Axel Springer, Sanoma has no e-commerce operations involving inventory risk — for the time being at least. Tuomola says that is a direction it currently is researching, however.
"E-commerce is considered to be one of the growth drivers in Sanoma's digital strategy, and Sanoma will be investing in the e-commerce realm in the coming years. We are exploring different kind of approaches to e-commerce and following very closely the transformation of the retailing industry."