La Nacion breaks down its 3-part acquisition strategy
Ideas Blog | 06 March 2022
At La Nacion in Argentina, the acquisition strategy is based on a foundation with three main parts, including digital and non-digital channels.
Head of Subscription Acquisition Agustina Roncaglione led INMA members through this strategy during INMA's recent Media Subscriptions Summit. The three components include: 
The what: Value proposition. A strong content proposition based on informative integrity, which is a continuous evolution. In addition, a benefits club that grows in discounts and geographical reach.

The who: Audience segmentation. The knowledge of the potential audience through their behaviour on the Web site or their interests in benefits allows the team to define messaging and ideal offers.

The where: Channel development. Search for channels that allow them to generate new subscribers with high quality.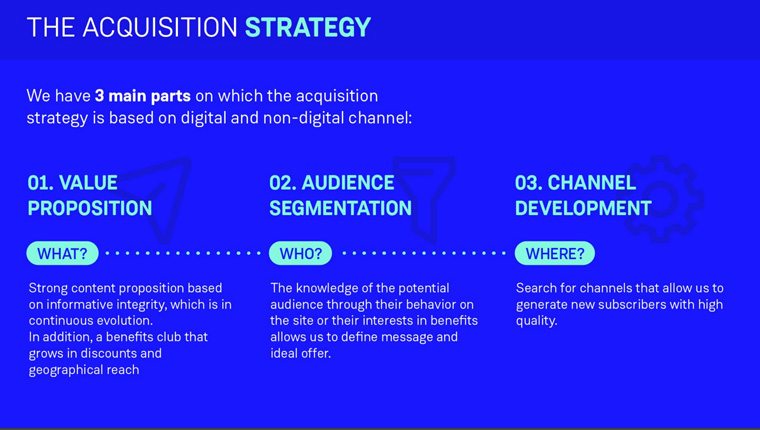 Value propositions
The value of La Nacion's content product is its journalistic integrity. It was the first Argentinian media organisation to be part of The Trust Project.
 Subscribers are offered exclusive content, such as: 
Newsletters.

Exclusive previews of articles from their columnists.

Events for subscribers.
"All of these elements combined became a powerful value proposition," Roncaglione said. "Another part of our value proposition is our benefit programme."
Club La Nacion is the most important benefit programme in the country, with more than 3,000 active benefits. La Nacion was a pioneer in generating a strong link and sense of belonging between its content and readers.
"Having Club La Nacion as a proposition gives us the possibility to reach more distant audiences with highly valuable discount options," she said. "In addition, it offers a completely digital experience with the app."
Based on this value proposition, La Nacion has a variety of subscription offerings including digital-only and digital plus Club La Nacion. It has also launched a family plan that allows for more than one user access.
Audience segmentation
The next step Roncaglione outlined was to identify the target audience.
"We do different segmentations of the audience by looking at their frequency of views, paywall hits, and what type of interests they consume," she explained. "All of this gives us the information to know which of our offers are more likely to [be of interest], whether that's digital access or digital access plus Club La Nacion."
The digital-plus benefits offer is often successful at reaching customers who are not already readers but are interested in the benefits.
Channel development
Once the offer has been defined according to audience segmentation, the sales channels have different messages and options that leverage the attraction of subscribers. 
Organic channels account for 40% of sales. This includes the paywall, subscribe button, and apps.

Non-organic channels account for 60% of sales, including digital, mixed, and non-digital.
"Looking deeper into our organic channels, our site has 12 free credits to consume content every 28 days," Roncaglione said. "Offering these credits allows us to analyse the impact of different categories that have a greater potential for subscription, and we are able to assign more credits to them to approach the paywall faster." 
On the other hand, it also uses audience segmentation to aid in restricting certain content. La Nacion also offers a special monthly promotion. 
With the subscribe button, the team takes advantage of visuals and changes the design of the button during weeks of special offers. Messages show the immediacy or exclusivity of the offer, and custom banners are displayed according to viewing frequency. This approach implements benefits-based messaging and design, and upselling is encouraged according to the plan the subscriber chooses.
There is a different approach with the non-organic, or push channels, such as Facebook, e-mail marketing, and Google Ads.
"We use Facebook as a channel to generate leads that drive to the call centre to complete the sale," Roncaglione said. "We call this a mixed channel, because the lead is generated digitally, but the sale is made by the call centre." 
With e-mail marketing, it uses a combination of message, offer, and segmentation to achieve conversion. More than eight segments allow it to customise the offer and message.
Google Ads reflects the demand of benefit searches: 90% of sales are attracted by the benefits of Club La Nacion, so the work of the engagement team is fundamental to achieving the use of digital access to the content once users subscribe. 
Other channels include alliances with other companies that sell subscriptions to their customers at a discount, corporate sales that offer subscriptions to their employees as a benefit, and the call centre, which sells subscriptions both inbound and outbound.