Jagran New Media looks for the positive in a pandemic
Ideas Blog | 20 April 2020
The global outbreak of COVID-19 has brought with it universal feelings of anxiety, fear, and uncertainty. With the news seeming to grow worse each day, Jagran New Media decided to find a way to deliver hope and inspiration at a time when it's needed most.
As the digital wing of Jagran Prakashan Limited, India's leading communications group, the company has a reach of more than 73 million users and wanted to provide them with a reminder of the good that still exists in the world, despite the many negative stories they read.  
On March 26, Jagran launched its Twitter-first series, Positive India, designed to share stories of positive actions and accomplishments of both well-known and everyday people. The first story in the series was about Captain Swati Rawal, an Air India pilot who flew to Rome to rescue 265 Indians left stranded by the pandemic.
The series features original stories and includes good works being done in the community, innovation being made in research, inspiring stories of entrepreneurship, and tips for maintaining positive health. One story featured Dr. Mickey Mehta, a popular Indian holistic health and wellness expert, encouraging people to meditate. Another post told the story of a man distributing food and hand sanitizer to police and sanitation workers.
"Currently, we are surrounded by an immense amount of negative news and information, and I believe it does impact us negatively, on both a personal front and as a society," said Bharat Gupta, CEO of Jagran New Media. "The fundamental building block of humans is hope, and I personally believe that we continuously need to be inspired to live as better humans and progress as a happy society.
"There is so much good that is happening around us, but it gets lost in the negativity that surrounds us."
Finding their happy place
The series launched on the social media platforms of Jagran New Media products, including Jagran.com, Her Zindagi, Only my health, and Jagran Josh. Partnering with Twitter India, they are publishing two stories a week in both English and Hindi. Amrita Tripathi, head of news partnerships for Twitter India, said Jagran is connecting to its audience "in a meaningful and important way" in real-time by sharing Twitter Threads and Twitter Moments.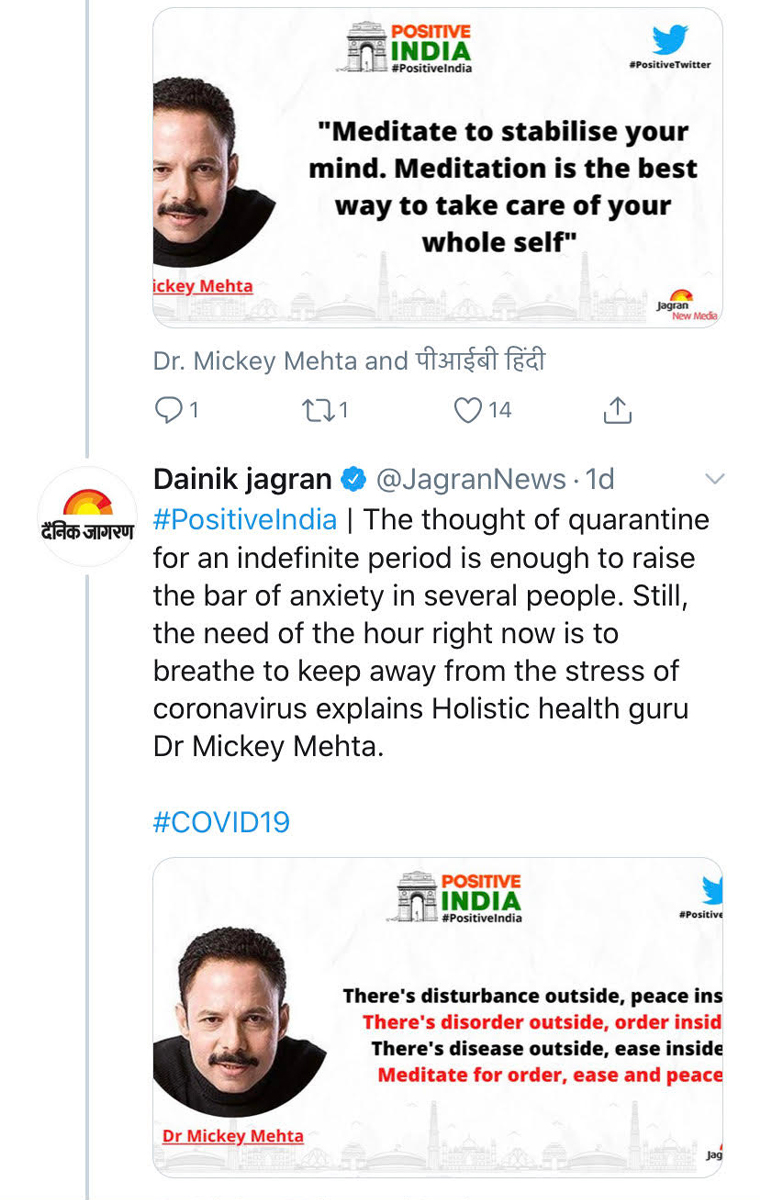 "Over the years, we have witnessed a significant increase in consumption of content across Indian languages on Twitter and look forward to seeing audiences engage with the series," Tripathi said.
By sharing stories of positivity and social harmony, Gupta said, they can change the way people view their current situation.
"Positive India can be a series that highlights all the good happening around us in terms of positive news, positive stories, experiences, or points of views," Gupta noted. "[It is] anything and everything which can inspire and aspire us, educate us, open our minds positively and … wake us up with a smile and programme our mind for a better day."
Banner image by Shahariar Lenin.