IMS Property360 pivots to help neighbourhoods in need with lockdown guides
Ideas Blog | 17 June 2020
The property market in South Africa came to a complete halt when our country went into lockdown in March 2020.
Over the years, our division — IMS Property360, which deals with all things property-related — has built up a solid archive of neighbourhood stories. These include the pros and cons of buying in an area, sales statistics, and an insider's guide to the area. We use these stories in print products (Independent Media titles) and on our Web site at property360.co.za.
Since our inception, we have used these stories to give future buyers and sellers a better understanding of the property market in the area, as well as giving real estate agents a space to highlight the area.
When COVID-19 hit, the property market and the property print products were stifled. One of the first things that became apparent to me was how many South Africans had been living from hand to mouth, day to day, and who were immediately thrown into starvation and complete economic hopelessness because they could no longer eke out a tiny living.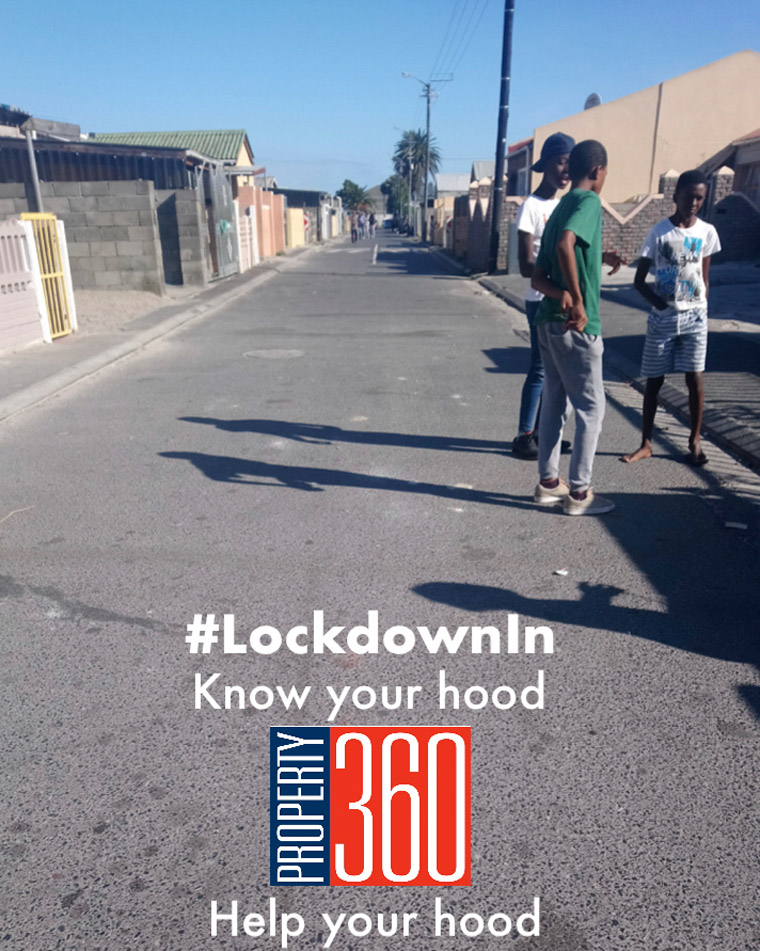 While the government created many streams to aid the poorest of the poor, many more were (and still are) falling through the cracks. Civil society and individuals have risen to the challenge of redistributing their own wealth to the poor via NGOs, charities, and food runs to the starving.
Neighbourhoods pitch in to help
The outpouring of goodwill shown to poorer populations from neighbourhoods previously featured on our pages gave hope in a dark time. A group called Cape Town Together was also formed, pairing poorer neighbourhoods with more affluent areas. Outreach happens via Community Action Network (CAN) groups.
Even with such goodwill, the number of hungry — including children who no longer go to school to get their one meal a day — was and is growing.
Some of the neighbourhoods we had featured in our Insider Guides were in dire straits. I was deeply touched by their plight, and I mulled over this: How could we turn what we already had into a project that could provide readers with opportunities to be of assistance to those in need, and how could we help the neighbourhoods we had featured that were struggling?
As an answer, I repurposed our Insider Guides to Lockdown In features.
With Lockdown In, we are not showcasing new developments — what prices properties are going for or why insiders like living there. Instead, we highlight some of the immediate issues these neighbourhoods and families are facing and highlight the Insider's favoured charities to which readers can contribute.
I wanted to bring the human story of these neighbourhoods in lockdown to our readers, plus give insight into what it is like to be in lockdown in some areas where, for instance, one outside tap serves 10 households. I also hoped to make a social impact on South African lives and use our vehicle to assist the neighbourhoods and people we had come to love over the years.
We called on readers to send us their stories or to highlight a story they know of.
Results have been two-fold: 
We have been able to use our platform to reach out to South Africans to help in poorer neighbourhoods and have provided them with opportunity in a tangible way to "spread the love." 
We have created a platform for the voiceless in neighbourhoods to be heard.
Never before has the story been more important. Never before has the voice of the voiceless needed so desperately to be heard.
In the future, this will potentially form part of our neighbourhood Insider Guides stories, where we will include the Insider's favoured charity. It is still early days on the project, but it is my hope that some people got to eat today because of it.
Banner image courtesy of Google.