How to measure news value in context of broader media ecosystem
Ideas Blog | 20 December 2016
How do we know the media as an industry is doing well? If you look at digital ad growth, you would think we're killing it. Or the market cap for the big platforms. Or the number of new companies and job growth in media tech.
Everything is going up, up, up. Except the parts that are failing.
Quality news is suffering terribly, and therefore, maybe media is not as successful as it appears from the outside?
The beauty of networks, the idea that has made Facebook and countless Silicon Valley success stories possible, is that connections become inherently valuable. People thrive on being connected. Businesses do, too.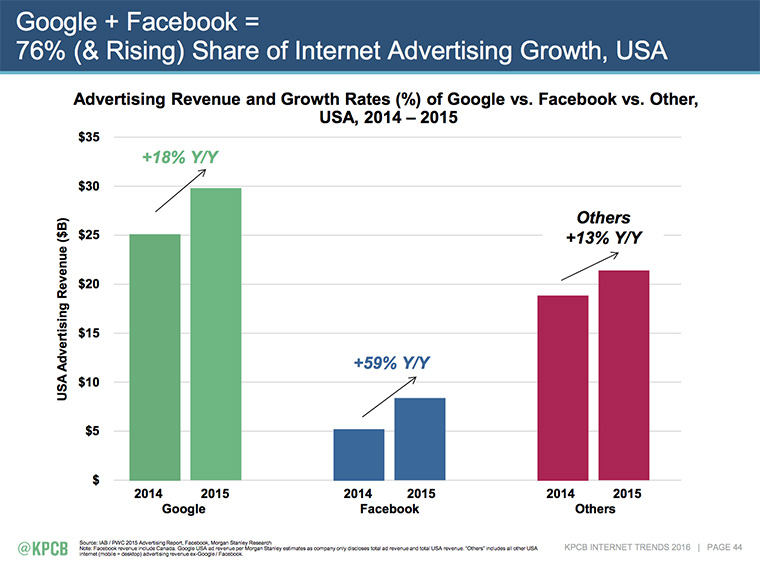 One way to connect news organisations into the wider media ecosystem is to use technology to deconstruct the news and to identify things that should connect and the value of those connections.
In any news story, we can identify the people, places, and things the article mentions, and we can deduce what the most important entities are in a given story. By using these concepts as connective tissue, we can link other networks with the news.
We know what topics quality publishers value by what they cover. We know people care about subjects by how much they are sharing those articles. And we understand advertiser demand around these same topics, from search PPCs (pay per click) and many other targeting and performance metrics.
Maybe there's a formula here: value of subject = (performance ad revenue x social distribution)  – cost of production.
The value described here is not money generated by publishers. Equally, social activity and ad revenue generated by platforms doesn't happen in a vacuum.
Rather this formula recognises value in the broader media market as a whole by connecting the independent areas of activity using concepts.
There are lots of ways to apply such a model on the publisher side. For example, more coverage of a topic doesn't make it more valuable for the publisher or the wider media ecosystem.
More coverage means articles have to work harder to break through, so maybe less coverage with higher impact is the way to both increase value and sustain positioning. This model could prove that.
It also could help publishers negotiate with the platforms more effectively. Putting everyone's contribution to the wider media ecosystem into a collective context could help all of us break free of the old zero-sum game way of thinking.
Regardless, if we want to understand the strength of media and technology as an industry, then we need to measure the impact of the news.
And if we want to become stronger, we need to balance the amazing growth we're seeing in distribution and advertising with substance that reinforces it, or perhaps even accelerates it. Until news is connected to measuring success, digital media is just big muscles on small bones.