HLN livestreams 6-hour helicopter flyover of pandemic well wishes and unity
Ideas Blog | 06 April 2020
On Sunday, with just six days lead time, the video team at Het Laatste Nieuws (HLN) did a six-hour flyover and livestream feed of encouraging words and well wishes. The #SamenegenCorona (#TogetherCorona) campaign aimed to bring Belgium together and the 627,000 people who watched at least a part of the show indicate it worked.
We talked to Dimitri Antonissen, editor-in-chief at HLN, on Monday to hear the how "De Ronde Tegen Corona" ("The Tour Against Corona") went and learn what led up to such an ambitious initiative.
INMA: How/when did the idea for this come up? 
Antonissen: We already had a daily feature where we flew a drone across a town or municipality. People could send in reasons why we would fly over their home. We did this in collaboration with VTM Nieuws, the television channel that is in the same group.
In one of the brainstorms sessions we had, my colleague Frederik De Swaef mentioned: "Maybe we should fly the complete Tour of Flanders with the drone next weekend." It was a crazy idea, but we love those. Using a drone appeared to be impossible for this, but we could realise it with a helicopter.
The idea was launched in the brainstorm on Monday. The action was already the following Sunday [April 5]. Our video team, led by Geert Dewaele, and the television crew realised the impossible by setting this up so quickly. 
INMA: Which departments were involved in pulling it together? 
Antonissen: Our online video team, headed by Geert, was in the lead, working together with colleagues from the television network VTM. There was a six-hour livestream on HLN and a four-hour programme on the linear channel of VTM. On HLN, you had the helicopter images and commentary from one the journalists flying along in the helicopter. On VTM, it was more of a television show with helicopter images mixed with studio talking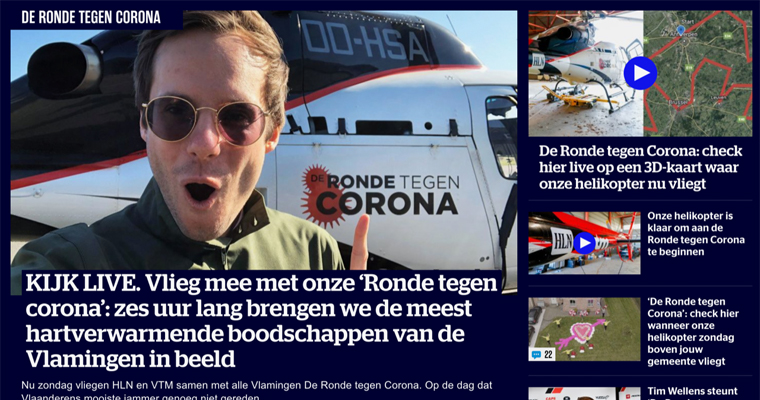 The sales department made sure we gathered four sponsors to cover most of the technical costs. And made sure we found a way to show their brands in an appropriate way (very low key, sometimes as an interruption between the images … no advertising, just a "made possible by" message).
INMA: How did you get word out to people throughout your region that this was happening and to encourage them to participate? 
Antonissen: We launched the appeal on Thursday through our own Web site, on social media, and in the television news of VTM, asking the question: Why does the helicopter need to visit your home or company? People could sent in pictures or videos through an integration platform on our Web site. In total, more than 21,000 people did. Even if the helicopter didn't fly over someone's house, everyone can still see the images here.
INMA: Can you share the logistics and expenses of the Sunday event? 
Antonissen: We rented and branded the helicopter on Saturday. In addition to the camera crew in the helicopter, there was also a radio journalist flying along, commenting all the time. On the ground, the video team captured the livestream and made sure we had snippets from the most interesting moments. Those were shown in a liveblog on the HLN Web site where one journalist kept track of the liveblog the whole time. 
Besides that, there was a camera crew on the ground going to a few hotspots, like one of the biggest hospitals or the house where one couple did a "gender reveal" for the helicopter cam.
I can't comment on the exact budget, but with the help of a few sponsors, it was possible to pull this off. 
INMA: Was the six-hour livestream difficult to produce? 
Antonissen: The video team has a lot of experience with live events. It's one of the differentiators for HLN. With big events, we are live. Of course, a six-hour helicopter livestream was new. We only had one moment where the box overheated and the helicopter had to come down for 15 minutes. And also the helicopter had to refuel two or three times. But apart from that, it went fluently. 
INMA: Can you share some examples of the 21,000 people who sent stuff in … their reasons for visiting their home or work? Also, your royal family joined in, right? 
Antonissen: It was widely diverse — a lot of people crafting stuff together with their kids, including two gender reveals. But we also had very emotional stories. Someone just lost her grandma. She had a real sweet tooth, which was also her nickname. To honour her, she baked a lot of sweet stuff and — from a safe distance — handed some of it out to neighbours. 
And then there was the 11-year-old son of our most well-known virologist. He had to miss his dad on this day — because he's really busy with the corona crisis — but we brought them together through the livestream with the virologist being on the helipad of one of our biggest hospitals with a big sign saying "Komt goed" … or "Everything will be fine." 
The royals made their own text on the lawn and waved with the whole family. Because it's not allowed for a helicopter to fly over the palace, this was prerecorded. The message reads: Courage. Samen sterk ("strong together"), with the tone of "You'll never walk alone."
Also touching was one of the hospitals in Limburg, a province that has been hit very bad by corona. The personnel of the ICU came out very briefly, wearing masks and waving to the helicopter. 
We finished at 5:30 pm by flying over our now mostly deserted headquarters in Antwerp.  
INMA: What were HLN's goals for this initiative? Did you succeed?  
Antonissen: We are a news brand that wants to be close to its readers with a lot of attention for the "human impact" and the emotional side of news. In a time when everyone is confined to their homes, this was a unique way to make this connection and to use our reach to let people connect with thousands of others across the country.
As for audience engagement, on television, 627,000 people watched at least a part of the linear stream and programme. On the Web site, 700,000 people started the livestream. 
INMA: Why are events like this important in such a time? 
Antonissen: We so need to feel this connection at this moment to show positive and uplifting messages in times when the news is mostly very dark.