Helsingin Sanomat achieves high engagement with interactive video series
Ideas Blog | 01 December 2019
The entire Internet is based on interactivity. A reader has all the power to make choices by clicking, selecting, voting, or giving feedback — yet Web videos have been mostly linear all these years. Interactivity is such a natural and essential a part of digital environment, there isn't any reason this state of affairs should continue.
My first experience with interactive video was an advertisement that appeared in a YouTube rock video. I clicked on the ad, a new window opened, and I ended up on some commercial site.
A question struck me at once: What if the viewer was kept inside the video to see, hear, or read more instead of a click taking the viewer away and into another online environment? What if it was up to viewer to create his or her own personal video experience instead of following pre-determined route?
Finland celebrated the country's 100th anniversary on the 6th of December 2017. Helsingin Sanomat (HS), the biggest newspaper in Finland, honoured this birthday with special journalistic efforts. Newspaper video crews were making a video series for the occasion, and I had a chance to present my idea about an interactive user interface to the crew.
The planned interface was based on embedded supplements that could contain text articles, photos, audio, Web calculators, or even another video. The video crew was enthusiastic about the idea.
In early 2017, we started to create a five-piece video series about extraordinary Finns: a monster truck driver, a pet crematorium owner, a retiring drag queen, an indie rock star with mental health issues, and an ice hockey player. We were on unfamiliar ground. None of us had done anything like this before.
The online video player normally used by HS didn't fit our purpose, so we had to find a better (and free) one. Our programmer found some open-source code material and modified it. Another challenge was that everyone on the production team had other full-time daily duties. This video series was only a side project, so progress was slow. Due to technical and resource challenges, we had to postpone the first video release until January 2018.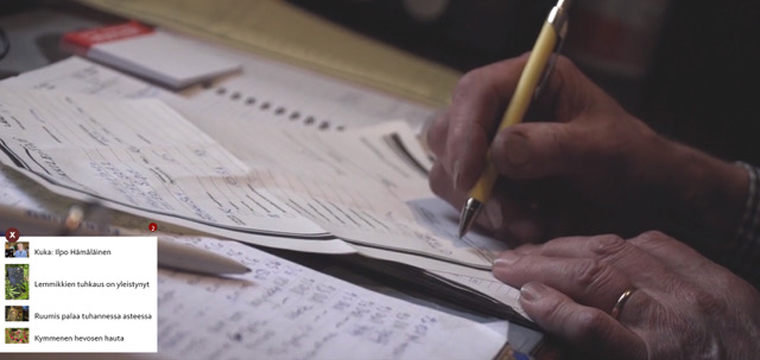 Monsterimies (Monster Man) was the first video to be released, and to our surprise it was a huge hit with 135,000 viewers. There are only 5.5 million people living in Finland, so 10,000 viewers would have normally been very successful. The last episode Proteesileijona (Lion with a Prosthetic Arm) was released in April and it was another big blast with 80,000 viewers. On average, our videos garnered 62,000 viewers. The second video Viimeinen Palvelus (The Last Service) won the video category in a prestigious Finnish photojournalism competition.
Our first interactive videos were portraits and pure feature journalism, but our storytelling technique is also well suited for news videos. Usually, news videos are short and don't go deep or into great detail. Embedded supplements offer us the possibility to introduce more facts into news videos, such as background information about a subject, additional story details, or more detailed introduction and background for an expert who is interviewed in the video.
It is hard to say exactly how big a role interactivity played in the success of the video series. We advertised the interactivity in print and online editions of HS as new kind of way to tell stories. The videos were high-quality stories about touching subjects, so perhaps they could have succeeded without any technical novelties.
But interactive videos and other experimental content play another role: They expand and strengthen our media brand. HS is no longer perceived as an old-fashioned newspaper that smells like printer's ink but instead as a modern media brand of the future.