Grupo Nación continues smartphone innovation, focuses on mobile revenue
Ideas Blog | 19 February 2014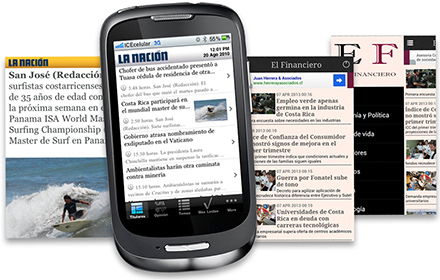 With eight publications — including newspapers La Nación, Al Día, La Teja, El Financiero, and four magazines — Costa Rica's Grupo Nación recently launched a different format for consuming the news, adapting its Web site to mobile, and working with software company Xalok.
In addition, it recently launched a redesign of its mobile Web sites for La Nación and El Financiero. 
Marcela Trejos Coronado, manager of marketing and brand development, notes that the company has also been working on apps. 
"We have different apps depending on what's happening in the country," she says. "For example, La Nación has done maybe 15 or 20 apps in the last year that have to do with certain events.
"For example, Cirque du Soleil came here for the first time in May, and [we] made an app, and we had advertising there. There is a huge festival here, which is the International Festival of the Arts, and we also developed an app for that. Depending on the audience, depending on what's going on in the country, then we develop an app."
Trejos says that in planning the year's projects, everything the company does in print "has to have, or should have — even if it's not that profitable — a Web-based approach or mobile-approach thinking in our audience's reality."
Among La Nación's main developments are:
An app for two prominent TEDx events.


A recycling map with statistics for each zone.


A statistics app for the country's primary national soccer tournament. 


A kiosk app for Android and iOS platforms with all publications available as enhanced PDFs.
None of these has been a successful source of income — yet. But the company is working on a plan for the future. "We are just about to begin the first training in responsive design. We are absolutely sure that's the way to go," Trejos says.
In addition, the company is about to launch a platform called Spia, which makes enhancements of pictures and videos when published in print. Through Spia, readers will be able to live entire experiences through their smartphones. The plan to monetise involves advertisers who will use it with coupons to generate traffic. 
Trejos believes mobile can become an important revenue source, "but at least in Costa Rica, it's going to take some time for the market to understand it and pay for it. As always, consumers are there first. But unfortunately, it takes marketing leaders in companies to move swifter and smoother to make it happen."
She thinks media companies could be among first to monetise mobile's potential and acquire a good share of mobile advertising market in their areas, "but I believe newspapers should hire 100% digital people who can disrupt minds and empower these young and creative minds to lead the way. Otherwise, we'll get stuck."
This is one of 17 case studies featured in the recent INMA strategic report "The Smartphone Choices for Media Companies." For more information on this report, free to INMA members, click here.