GIS technology helps Norwegian news media companies increase print advertising spend
Ideas Blog | 12 June 2013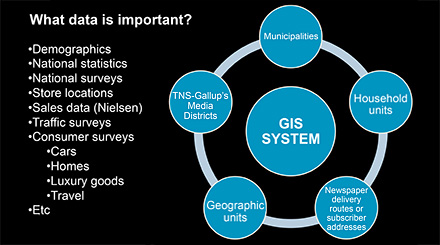 In an ever-changing interface with their users, media companies look to GIS solutions to find common or unique ground to provide effect for their retail advertisers.
Gone are the days when news media companies could sell based on salesmanship alone. Today, the intelligent media buy is based on metrics and analytics, and advertising budgets are measured in ROI and engagement.
With the ever-evolving bought, owned, and earned media definitions, the advertiser is taking increasing control of his marketing performance.
The challenge to media owners is to get closer to the advertiser's cost-effective, one-to-one communication goal by providing successful tools to attract new business or augment existing.
Defining the client's clients — in particular the retail advertiser, dependent upon distribution and logistics as well as brand preference — means visualising and describing how the media can provide unique access to fresh targets as well as coverage of existing.
Why GIS?
GIS is a geographic information system that lets us visualise, question, analyse, interpret, and understand data to reveal relationships, patterns, and trends. By plotting our audience geographically and marrying this with coverage data provided by the client, a series of interesting options arise.
Where we prove to have common ground, the client sees that increased media spend provides results (more pages sold, more pageviews, more leaflets distributed, more one-to-one mobile or e-mailing communications).
Where we are unique, we can advise the advertiser of an emerging geographical area or target group in which she should focus for additional revenue potential, thereby partnering with her in providing growth.
Understanding our advertisers, in addition to understanding our audience, makes for a powerful combination.
Developing geographical tools and plotting in national surveys — such as socio-demographic target groups, travel and driving surveys, national statistics, rural or urban homeowners, or even bespoke user surveys for a particular advertiser store or retail outlet — takes the guesswork out of media planning.
Illustrating such surveys on an interactive map, where areas can be outlined and layered with additional data, makes for active discussions and exchanges of ideas.
Newspaper companies are choosing geographical data for digital development, to publish consumer information, and to present advertiser solutions. GIS gives a competitive edge to other media channel options and, in Norway, has successfully placed leaflets, distributed with newspapers, ahead of the game.
Media-spend figures for Norway through the IRM Institute for Advertising and Media Statistics show a net growth of 11.2 % for the full year 2012 against 2011 in loose inserts distributed with newspapers — an outstanding growth considering the total net media spend was a negative growth of 0.2 % for the same period.
These figures show more advertising investment is driven toward direct marketing in print, due to more sophisticated research and proven results.
This, compounded by media and advertiser know-how, shows that when business opportunities are considered, GIS data provides valuable insight that can help develop many newspaper business models, modernising the way we sell newspapers and helping us evolve from selling space to selling effect.