Fairfax Employment Network debuts with a bang-for-your-buck video campaign
Ideas Blog | 22 August 2016
Fairfax Media developed The Fairfax Employment Network (FEN) to help Australian employers find the right people for the right jobs. The targeted, bespoke, multi-platform advertising solution reaches a broad, high-quality pool of job seekers.
Utilising a collection of Australia's most trusted brands, including The Sydney Morning Herald, The Age, The Australian Financial Review, Good Food, Executive Style, Weatherzone and others, FEN features a range of innovative digital products and technologies to connect employers and recruiters with candidates across the day as they engage with Fairfax content.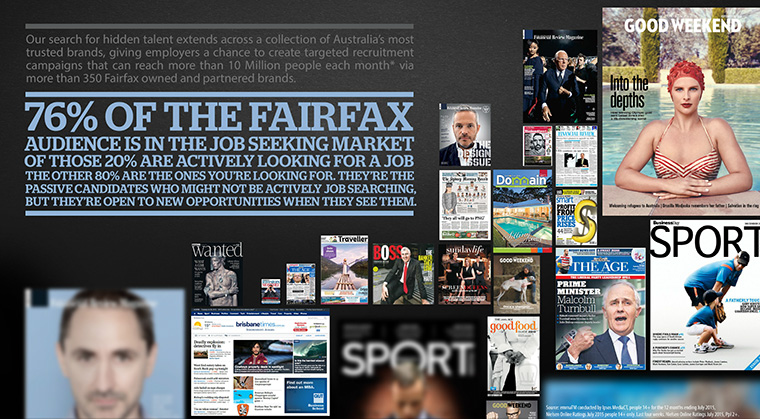 A key consideration when launching FEN was selecting the right platform to drive awareness and engagement with our audience — and bring the network to life by giving it a voice.
We chose video as a primary promotional tool because of its power as a storytelling medium. We developed a video series to support the tone of the new advertising network and, at the same time, delivered our unique selling proposition in a fun, informative way.
Reaching media and advertising agencies was key. We consider our agency clients a workplace partner, as they recommend and buy our advertising solutions. So we provided training and tools to assist them in the selling process. We also went direct to clients, ranging from in-house HR professionals, to recruitment agencies in the government, corporate, education, health, community, and not-for-profit sectors.
To position FEN in a fun, light-hearted manner, we developed:
A long-form video to tell the overall FEN story.


A series of short-form video vignettes detailing the range of FEN products and  technologies available to reach candidates on any device.


An interactive PDF to explain the different elements of FEN and its unique proposition, with embedded videos, which could be downloaded by clients as a presentation deck.


A trade advertising and PR campaign to support awareness and promotion of FEN through trade publications.
To encourage further engagement from media and advertising agencies, we offered the chance to win some great prizes — including an Apple Watch and Flight Centre vouchers — by engaging with the video content and answering specific questions. Targeted electronic direct marketing announced details of the one-week competition, and a dedicated competition landing page was developed for Fairfax's AdCentre Web site to house the competition entries.
Our competition results exceeded expectations. Our videos attracted nearly 2,000 YouTube views, and the electronic direct marketing resulted in a 33.2% open rate with a 7.5% unique click-through rate.
Not wanting our sales teams to miss out on the competition, we ran an own internal challenge encouraging face-to-face meetings with clients to present the new advertising network. This resulted in 86 face-to-face meetings across the campaign period.
The feedback we received from our clients was positive. They said our campaign was clever and informative:
"A really good, cool campaign." — Brett Warren, Director, Warren International (Emirates).
"The animated ones are great. They're fast moving and straight to the point, so it doesn't feel like you're being talked at. Informative, but not boring." — Gina McCoubrey​, Account Manager, ​​Blaze Advertising.
"It was really clever. It can be hard to get across that much information in an ad, in an engaging way, but I thought the videos worked really well." — Renee Robson, Learning & Organisational Development Manager, YMCA Victoria.