Fædrelandsvennen's everything, everywhere, always business model grows audience
Ideas Blog | 10 November 2013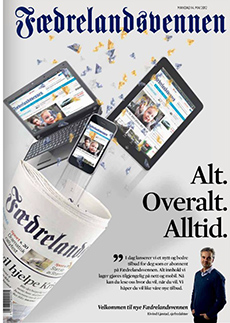 For a long time, our media house was stuck in familiar discussions: Are stories to be published on the Web or exclusive in print articles? And if they are online, are they digital first? Or do we break the story in print and then publish a digital version?
For years, the trend has been clear. Readers and money move from print to digital. The problem is that readers and money do not necessarily move to our digital channel, and the eternal discussions has forced us to develop digital with print strongly in mind.
Such discussions meant that digital channels were secondary, while print was our prestige product.
At Fædrelandsvennen, we think this was both difficult and counter-productive. Simple and conservative projections showed that with our existing business model, all profits will be lost within three to five years.
Together with the president of Schibsted Norway Digital, Stig Waagbø, we looked at several alternative models. Our philosophy was that readers are willing to pay for content, but with the expectation that they can access it anywhere once they have paid.
With this background, we held onto the simple idea of bundling products together in one package. You pay once and, in exchange, get all of our products — digital and print. It's easy to understand, easy to communicate, and easy to sell.
The idea seemed constructive and easy to communicate, so we launched the project early 2011. We focused on our core positioning and what drives customers to choose us, which helped us clarify what our core actually is.
With our basic position in place, we developed new strategies for editorial content, design, and brand. We also had to tackle the Norwegian tax legislation and made tough choices on our digital payment model. Our options were a metered model or a freemium model.
We started with a deal that sold the brand as one bundled package, with the primary goal of enhancing our product for existing customers. We wanted to showcase that we have a payment system and that digital content has value.
With a metered model, traffic analysis showed we must turn the number of article views available to a very low setting if we were to be perceived as a pay product. More qualitative research clearly showed what content we could charge for: Local stories are the most read and most exclusive cases we have to offer.
The analysis pointed to several factors that convinced us the freemium model was the right choice on the basis of our position and our content:
It is easy to communicate to our customers.


A solution with a free space and a paid area meant major internal challenges in creating the right content for digital platforms, paid and open.


The positive aspect of the challenge meant adjusting more content to digital platforms, not just publishing newspaper articles online.
Our print product was kept separate from this project. In retrospect, this appears to have been the right decision. Projects that include print tend to act only on print. The industry and the media house's main challenge is not to make a good newspaper — it is becoming digital enough, fast enough.
The payment project triggered major changes in sales work for ads and circulation. Our advertising department needed a new strategy and some new products, but this is where we made the fewest changes. We have told major customers that step two will be good news in the long term for clients with multiple and targeted products.
The reader market really was the revolution of this project. Our sales model became much more digital. We both recruited and learnt from e-commerce. We implemented the use of data, testing, and professionalisation of communication. Our digital model has finally given us the tools and capabilities to do what we want in regards to testing and adjusting individual contact with readers.
Data and analysis were central to all aspects of the project — both fundamental analysis to make good choices and the desire to build a good data engine to develop the media house further after launch.
Complicated and partially faulty data architecture meant that parts of these aspirations had to be put on hold until well after launch. We also saw that the areas where data and analysis were put into use were moving us fast and far.
Data-driven decisions and analysis with the appetite and ambition — both locally and in Schibsted — are evolving rapidly.
After a long period of hard work, we launched the biggest campaign our media house has ever executed in May of 2012. We used our own channels and bought others like never before, focusing hard on the extra value.
Internally, we received lots of attention as we prepared for a digital storm, especially from the non-paying users who could then see that they were getting less.
In our scenarios, we thought we would be hacked, would see blogs against payment scheme, and protest groups that demanded a free online newspaper again. In addition, we expected that many customers would need help understanding the changes.
We were correct on all scenarios. We needed all the plans we had prepared.
Management and staff decided to take the fight and used social media to our advantage, using sober and factual answers to all questions in social media and online meetings. We took the time to turn the mood.
There were plenty of tough days and weeks. We felt like we were on standby 24/7. But an understanding gradually sneaked in with the users. Finally, the media house found itself closer to the readers. Digital readiness was a successful key part in the launch.
Our project objectives were to give existing customers more value and to turn a negative circulation trend that has lasted since 1995.
As expected, traffic took a substantial hit, and we fell 17% in reach. It's not the worst case and not as good as we hoped. However, regional media has always earned money on local readers. There are clear indications that those readers are still with us.
We are finding that growth comes back. Recently, our reach has grown about 12% against the same period last year. That growth is mainly on mobile platforms and tablets.
Circulation at Fædrelandsvennen was at its highest level in 1995. Since then, we have lost a little each year. The trend reversed when we launched the freemium model, and we grew about 2.5% from the launch throughout the year in the number of paying subscribers.
The trend has leveled off, but now we are back in a phase of slow growth. Forecasts of the circulation trend before launch shows that we now have about 10% more paying subscribers than if we continued with the same business model.
More important for us was our goal to get subscribers to use digital. Approximately 80% of our subscribers have registered with a digital account. An important job now is to get them to use us more and more often, and to become addicted to the digital supply.
We feel our success factors included:
A clear, main goal of increasing value for existing customers.


Clear and open communication internally and externally during all phases of the project and after launch.


Easy-to-understand sales model.


Focus on internal building of a digital culture.
Points we could've improved upon: 
Technical staff was involved too late in the project.


Not enough resources for fixing bugs after launch.


Took to long to evaluate existing project and start the next phase.
Our conclusion is that the media house is off to a great start, but we need to keep developing quickly to capitalise on our position.