Expressen cooperates with broadcast channels to build content library
Ideas Blog | 06 April 2013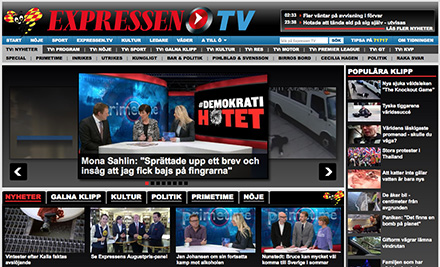 The "chicken and the egg syndrome" arises quickly in the creation of a long-form video channel.
Publishers need quality content to attract viewers, yet also need the revenue to support that content, which typically requires having numbers to justify higher rates.
So how can publishers begin to create a library of inventory that will be attractive both to viewers and advertisers?
In Sweden, Expressen's television site, Expressen TV, broadcasts news, sports, and entertainment stories that can be found on the media company's Web site, as well as longer programmes produced in its television station.
But Editor-in-Chief Thomas Mattsson says the most effective way to build a library of video content is through cooperation with broadcast channels.
"We have a TV department with dedicated video reporters, but have newspaper photographers who do video as well," Mattsson says.
Expressen buys video content from TT, the Swedish news agency, and also from TV4, the largest commercial station in the country. "But we also receive a lot of content from every broadcast channel, including public service stations, since they all want PR about their content."
Using its own on-site studio, Expressen broadcasts news-focused programmes on a regular schedule, and also has a live show, "Bar & Politics," broadcast from the Slussen Hilton Hotel in Stockholm. Expressen staff interview leading politicians, such as the prime minister, the secretary of state, and cabinet ministers. During the acclaimed programme, lasting from 90 minutes to two hours, viewers Tweet questions, providing them a personal, interactive experience.
However, it is Expressen's live TV format that is gaining the most traction and, subsequently, finding the most growth. With two mobile LiveU units, Expressen can cover two live events simultaneously, whether it's news or sports. Live coverage to date has run the gamut from breaking news to debates in parliament.
In January, Expressen took audience engagement to a new level at the end of "silly season" — the time when European soccer clubs can transfer players. A live, non-stop programme on January 31 featured guests chatting about rumours and signings, airing for eight continuous hours.
Mattsson points out that the proliferation of video is just beginning. As smart TVs emerge, publishers will have even greater opportunities for connecting with their audiences.
"We meet with TV hardware companies so that their smart TVs will have apps from Expressen TV," Mattsson says, adding that he watches Expressen TV at home on a large-screen Samsung. "I can stream our video from the Expressen app via my Apple TV box to my big TV screen. It is very simple."
From original programming to shared content, publishers are exploring different ways to acquire long-form video — and looking for innovative ways to package it — both for the benefit of their viewers and to make it attractive to advertisers.