Economist's 1843 magazine targets affluent readers with global content
Ideas Blog | 15 May 2017
The Economist was launched nearly 175 years ago, in 1843, with the purpose of telling you what you need to know to navigate the modern world. In March 2016, The Economist launched a bi-monthly magazine that aims to tell you what you might want to know to help you enjoy it a little more.
Named for the year in which The Economist was founded, 1843 magazine is designed for the same sort of reader — people who are curious about ideas and culture — but when they're in a different mode. The Economist produces concise, evidence-based reporting and opinion; 1843 offers longer features that explore the world at a more leisurely pace, through profiles and narrative journalism.
By drawing on The Economist's superb network of correspondents around the world, 1843 is able to publish pieces on subjects readers are unlikely to encounter elsewhere — from the issues that threaten to tear the fabric of society, like the plight of millions of abandoned children in China, to the people shaking up their industries, like the man who makes the world's best TV and the therapist championing the benefits of infidelity.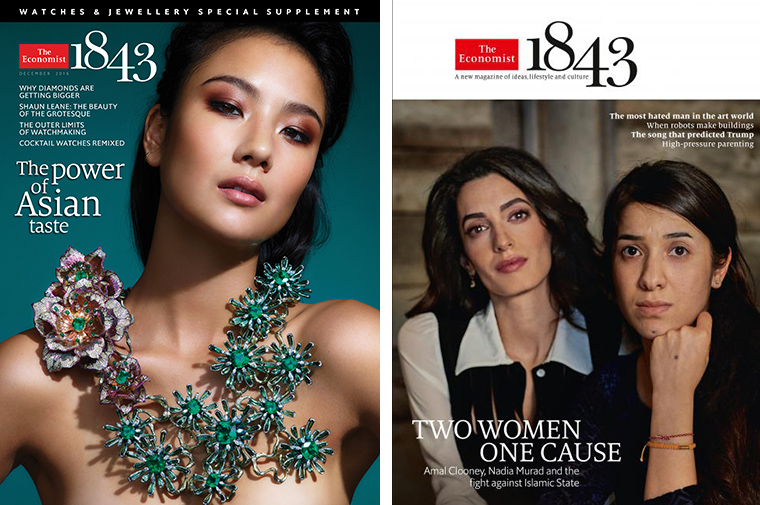 Over the last year, 1843 has published a variety of articles that demonstrate its stylish prose, incisive reporting, and eye for a good story. The cover of the February/March 2017 issue, for instance, featured Nadia Murad, a Yazidi refugee and former sex slave, and human-rights lawyer Amal Clooney, who posed for her first-ever cover shoot. The Economist's foreign editor reported on their struggle to bring Islamic State to justice for inflicting genocide on the Yazidi people.
Starring on the cover of the January/December issue was Olivier Rousteing, the man who has turned a small, classic French couturier, Balmain, into the favourite fashion house of Kim Kardashian and Rihanna. However, not everybody approves of Rousteing. Our style editor investigated why the designer is so often tarred and feathered with the worst insult in fashion: "vulgar."
Working with some of the world's best photographers and illustrators, 1843 boasts clean, considered design. It is in part the elegant look of the magazine that has attracted an affluent audience base and advertising brands in America, the UK, Europe and parts of Asia. UBS, Burberry, Ralph Lauren, Dolce & Gabbana, and Patek Philippe came on board as commercial partners at launch, and a whole raft of luxury advertising clients such as Chanel, Jaguar and, Faberge have joined since.
1843 is a magazine with a global readership, and the journalism reflects that, from pieces on Pakistan's music scene, South African ballet, Indian fashion, and the Russian artist who uses his body to taunt the Kremlin.
We want readers to think of us as a compass to help them navigate the world and its delights.