Ebela breaks myth that older readers are print's only audience
Ideas Blog | 08 May 2013
ABP Pvt. Ltd. is one of the leading media conglomerates in India, with its footprint across vernacular dailies, English dailies, magazines, television, radio, Web sites, book publishing, and media training.
The flagship daily newspaper, Anandabazar Patrika, has a heritage of 90 years and is a market leader, being double the size of competition. The other group assets are also leaders in their own markets.     
On September 17, 2012, the ABP Group launched Ebela, a new morning daily, in tabloid format and written in Bengali (the most popular language of Eastern India). It has shattered the myth that the new generation is averse to reading regional language newspapers.
The refreshing, sleek, and smart content of Ebela is building a young readership base. Recent research by Indian Market Research Bureau (IMRB, part of WPP group) shows 30% of Ebela readers are below 30 years of age, while the average for all other Bengali newspapers is only 20%.
The Bengali newspaper market has been dominated historically by Anandabazar Patrika, with a circulation of 0.65 million copies per day in Calcutta alone (total circulation is about 1.2 million copies per day across the entire state of West Bengal).
However, it was becoming increasingly difficult to engage the young audience through Anandabazar Patrika, or any other Bengali newspaper, for that matter. This is critical because today's young generation will drive the economy during the next several decades.
Therefore, the ABP group launched a new daily, Ebela, designed to meet the needs of this young generation, with both content and presentation. The target group of the brand is anyone 20 to 40 years old who is young-at-heart and can read Bengali. Presently this newspaper is circulated in Calcutta, one of the four most important metro areas in India.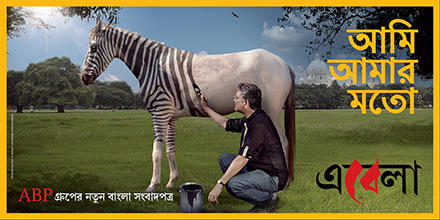 The positioning line of Ebela is "Ami Amar Mato" ("I am what I want to be"). This mirrors the psyche of India's new generation, which is bold, colourful, positive, young–at-heart, free-spirited, forward-looking, and brimming with energy.
The product also reflects this spirit. An all-new tabloid format (a first of its kind for a full-fledged, morning newspaper in Eastern India), a colourful design, visual connotations of the stories, and a perfect blend of news, views, and entertainment have made this daily an immediate hit with all those who are young -- in mind, not just age.
Ebela's launch was a 45-day, high-octane campaign, covering print, television, radio, outdoor, on-ground, and digital media.
Eating sweets (a popular form of dessert) is considered a ritual in India to celebrate any new occasion. More than 50,000 Ebela-branded sweets were distributed across Calcutta on the day of launch.
The first day's newspaper, along with the branded sweets, was given to more than 12,000 passengers who arrived and departed from Calcutta's airport that day. The launch of Ebela also was marked by the biggest flash mob in the city, with more than 1,000 people tuning in to tap their feet with two of the biggest stars in the state.
Ebela has achieved a circulation figure of 0.3 million within three months of its launch, thus becoming the second-largest newspaper in Bengali and third-largest newspaper (across all languages) circulated in Calcutta. The next-in-rank Bengali newspaper has a daily circulation figure of 0.25 million, achieved 25 years after its launch. This means that the top two Bengali newspapers in Calcutta both belong to the ABP Group.  
Research has also laid to rest the concern that Ebela may cannibalise the readership of Anandabazar Patrika since both are Bengali dailies. The IMRB study shows that 56% of Ebela readership is unduplicated, meaning Ebela is building a readership base of its own.
Ebela's achievement on its Facebook page has been equally laudable. It's now the first Bengali newspaper to achieve the magical figure of 150,000 "likes," which it achieved within just two months of launch.
The growing demand of advertising space is also a testimonial to Ebela's success. Leading brands from all sectors — auto, finance, real estate, jewelery, consumer durables, and entertainment — have already advertised in Ebela, and many more are queued up.
The journey of Ebela has just begun.