Desert Sun reaches teens with high school mobile app
Ideas Blog | 03 September 2013
To reach Millennials and Plurals (the latest generations of consumers), The Desert Sun went to school.
Here's why:
Teens are the earliest adopters of many digital innovations – not their parents. Think, for example, of how MySpace led to Facebook and Twitter, which preceded Tumblr, Instagram, and Ask.fm – all dominated by teenagers.
This trend cuts across demographics, which presents us with an opportunity to reach emerging Latino consumers as well as their white classmates and families in the Coachella Valley, a growing market of 400,000.
With that in mind, The Desert Sun developed a pilot mobile app for Cathedral City High School, a majority Latino high school with 3,000 students.
Desktop analytics consistently showed traffic spikes when we produced content about proms, graduation, and high school sports. And as iPhone and Droid adoption surged through this school audience, we tracked a steady migration from desktop to mobile consumption.
The trends convinced us that we would find an engaged audience in the mobile/digital environment. We were confident that once we were established, the students would be engines for social sharing.
Today, DigitalNatives.net is poised to launch a Web home and app for a fourth Coachella Valley school, Desert Hot Springs. We're already online with Cathedral City High School, La Quinta High School, and Palm Desert High School.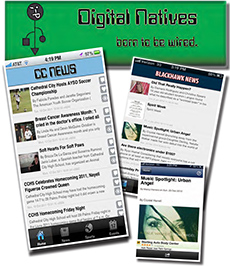 The model is simple: Working with a faculty advisor and students assigned to the project, the Desert Sun/MyDesert.com team develops an online site and smartphone app. The content, categories, graphics and editorial focus are crafted to each school's needs and, once built, we turn over day-to-day site management to the schools.
In some schools, Digital Natives has joined the curriculum for students studying media and journalism. In others, the site and apps are showcases for student-created video and multi-media.
The work of some Digital Natives students is reverse-published in The Desert Sun's print weeklies, reaching a broader audience that might not otherwise know about our work in the classroom.
With this project, The Desert Sun is surfacing our brand to a new generation of readers – many of whom live in homes where there is no print subscription. Creating a connection with the Millennial/Plural generation now, we are building our next generation of readers, who will recognise The Desert Sun/MyDesert.com as a vital, digitally savvy information source and community connector.
As we continue to pick up new schools in 2013-14, we plan to establish a journalism summit that will serve a dual purpose:
It will underscore our commitment to serving the community.


It will give us access to a focus group of teens that will inform the moves we make as we plot our future course.
Since the programme's debut, our first Digital Natives app, CCNews, has been downloaded by 1,900 people in a school of 3,000. The second app, Blackhawk News/LQNews, has been downloaded 900 times. The Desert Sun promoted these apps in a partnership programme with McDonalds, which gave each person who downloaded the app a food coupon. We provided an iPad to La Quinta High School to give away as an app download incentive.
The PDNews and DHSNews apps will receive marketing support in a download campaign scheduled for the new school year.
Teachers, especially, have embraced Digital Natives.
"It is vitally important that our Valley students be introduced to the possibilities of the future when it comes to employment," says Marcy Herrera, a teacher at La Quinta High School. "Participation in The Desert Sun Digital Natives programme has provided just that. The students quickly learn that this career will allow them to combine technological ability with creativity in a field that is constantly evolving and growing."