Dallas Morning News increases newsroom satisfaction with mentoring programme
Ideas Blog | 25 February 2019
Building a strong mentorship programme is essential if you want to create a culture of teaching, coaching, and learning in your newsroom.
In the past few years, The Dallas Morning News has hired dozens of young journalists who are hungry to learn and grow. We have veteran journalists who want to master new skills as we've become a digital-first, audience-first newsroom. And we have many journalists who are passionate about helping those who are coming up behind them.
In the early spring of 2018, we joined the Online News Association (ONA) Journalism Mentorship Collaborative, an open network of newsrooms committed to diversifying their organisations through mentorship programmes.
Thanks to a generous grant from ONA, three staff members and I launched our mentorship programme in May 2018. We opened the programme to anyone in the newsroom, and we developed a deliberative process to match mentors with mentees (more on that later). 
We've matched 35 pairs of journalists (for a total of about 70 staff members). That number has stayed stable over the last several months, as some folks have departed and others have arrived.
We used the ONA grant to bring in journalists to train us and speak to us about mentorship and career paths. These included Butch Ward of Poynter, Millie Tran of The New York Times, and Aisha Sultan of the St. Louis Post-Dispatch. We also hosted pizza lunches for Damon Kiesow of the University of Missouri and Keith Jenkins of NPR.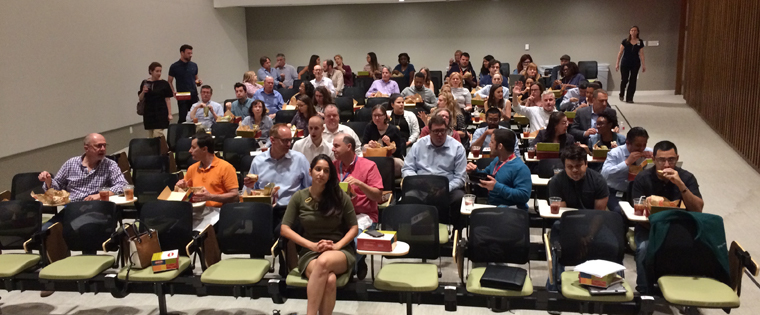 We conducted a newsroom survey in April 2018 before we launched the programme and followed up with a survey in August showing we had early success in moving the needle.
In April, only 40% agreed they were satisfied with mentoring on journalism skills and only 36% agreed they were satisfied with career guidance. Four months later, 74% were satisfied with journalism skills mentoring, 62% were satisfied with career guidance, and 83% said their connection and communication with their mentor/mentee had been consistent and beneficial.
In building our programme, we learned that it's important to:
Gauge early interest: We shared a Google doc with the staff, asking people to indicate if they were interested in finding a mentor and/or being a mentor. We were pleasantly surprised that there were an equal number of people in both groups.
Get enough information for good matches: We used Google forms to ask prospective mentors and mentees for specifics on career paths and subject areas they're interested in, as well as what skills they'd like to learn or can help teach.
Create surveys: We wanted to measure satisfaction with the mentorship relationship, satisfaction with being able to get mentored on skills, and satisfaction with being able to get mentored on career paths.
Take the time to find the right matches: We gave each mentor the name of their mentee and asked them to raise any flags. We did the same for each mentee. Then we asked each pair to sit down with each other and give us a green light.
Celebrate and learn: When we launched, we got the whole group together, served food, talked about expectations and tips, and hosted a short panel discussion with three racially diverse community leaders who talked about what they got out of mentorships. We've continued to host gatherings for our mentors and mentees.
Our mentorship programme is still going strong. The next step is to conduct another survey to measure ongoing satisfaction.