Dagens Nyheter shares 3 key lessons from its direct e-commerce model
Ideas Blog | 20 June 2021
The publishing industry is facing a significant moment of change as it looks for ways to redefine the new media business model. Two trends have emerged that have forced executives in the leading publications to rethink the fundamentals of the media economy.
Firstly, the golden age of digital advertising is over. Revenue from ad sales has been declining for years, and this trend was accelerated even further by the COVID-19 pandemic. At the same time, digitisation is taking over the world, with content increasingly consumed online, over a wider range of channels, and in a shorter time.

This fast-changing ecosystem creates critical challenges for all types of media companies. How can publishers find new revenue streams? And what needs to be done to transition from an advertising-led to a more consumer-focused model?
Dagens Nyheter, a go-to source for quality journalism in Sweden, is ahead of the game in finding solutions to these problems. To diversify revenue and strengthen reader loyalty, DN implemented e-commerce into its monetisation programme and started selling directly to its readers. Shopping takes place via its online publication. Readers find offers and deals in DN's dedicated shopping section and check out directly on the same page.
Improving revenue and engagement
E-commerce allowed DN to add a new revenue stream while also creating greater engagement with its subscribers. But what made DN's approach so successful? To better understand DN's experience with e-commerce, we can look at one case in particular.

In the spring of 2019, DN launched a campaign offering an electric bike exclusively to its subscribers. DN partnered with a Swedish bike manufacturer, Elcykelvaruhuset, and designed a unique product. The bike was branded with the DN logo and came with a custom-made bicycle bag. DN promoted the offer in its print and online publications, and subscribers could purchase it on DN's dedicated shopping section, Erbjudanden.

As the electric bike was a great fit for its audience's interests and values, it was perceived as added value. And the uniqueness of the product, together with the branding, led to high sales. In 2020, DN repeated the project, and this year's campaign was just launched. So far, DN has sold more than 750 bikes and generated over €860,000 in revenue.
Applications for other companies
What can other media companies learn from this case? We identified a few key factors for a successful e-commerce initiative. 
1. The product offering is decisive.
At DN, an in-house commercial team carefully handpicks products that align with its readers' needs and interests.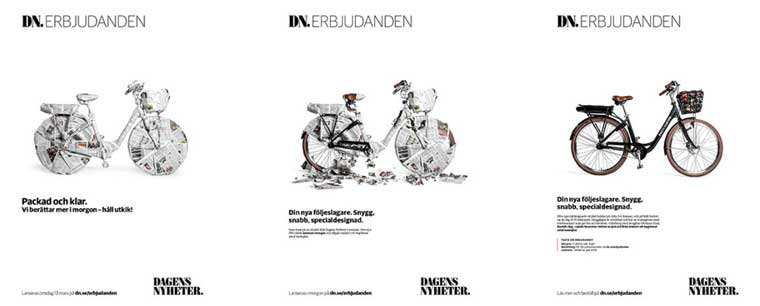 2. Choose direct shopping over outbound links.
DN's shopping programme doesn't send readers away from the publication. This improves the reader-shopping experience, and the publication doesn't lose readers to external affiliate sites. 
3. Maintain transparency and integrity.
A strict separation of content production from monetisation guarantees DN's high journalistic standards and the integrity of its news content.
DN is well on its way to becoming a paid-content-driven media channel, and direct e-commerce helps this transition by delivering reliable media revenue. In its carefully designed shopping offers, its readers find value. The inspirational products and good deals DN offers foster greater reader loyalty and identification with the media brand. 
To learn more about DN's story, please read the full case study here.