Clarín follows mobile audience, uses messaging platform during election
Ideas Blog | 19 July 2016
Clarín, the flagship newspaper of Latin America's Grupo Clarín, tested the scope of reader's hard-news fandom during the coverage of the 2015 presidential campaign in Argentina.
This was the first presidential election in the country that was resolved through a second ballot, and there was a huge interest in it among Argentineans.
As part of Clarín's search for understanding and reaching users in the current mobile environment, the newspaper recognised the industry's need for experiments with news for messaging apps and push notifications.
We used the messaging platform Telegram, in which we saw an ally for distributing mobile content and for bulking a brand based on media innovation, freedom of speech, and public service.
Our work with Telegram started the day after the first general election, October 27, 2015, when metrics showed most of the readers had spent the day checking their smartphones for content about the election.
We saw that readers wanted more information about the two candidates, the campaign, and the first-time-ever televised presidential debate. This debate was going to take place weeks before the second ballot.
Telegram is not the most popular messaging platform throughout the world, including Argentina, but has gained traction in recent years due to crashes in other services such as WhatsApp. It offers secure communications, stable apps, and innovative features, which creates a natural niche for certain users like techies, politicians, and journalists.
One particular feature of Telegram, Channels, allows users to create feeds of messages to which anyone can subscribe, receiving push notifications on their devices.
This was especially tempting for Clarín, as we didn't want to deal with the distribution and logistical issues that undermined media experiences on other messaging services, and wanted to focus on content and users' interests.
One challenge we were aware of was the question of how many news notifications users will tolerate from messaging apps, and if that changes when they feel engaged with the topic.
We created the @Clarincom channel in Telegram and named it "Clarín/Balotaje." Our coverage began on October 29, and ended on November 22, when Mauricio Macri won the election and became president.
We published original content produced from traditional sources: newswires, press releases, journalists' informants, insider data, and beat reporters' observations. We also curated stories from Clarín's other platforms (the Web site and print newspaper), broadcast media, and social media.
The content was customised specifically for Telegram using a variety of formats: plain text with emojis, shareable photos with text and infographics, short downloadable audio and video clips, and links with commentary.
Every day we published the best photos of the campaign with data or quotes from the candidates; visual data with the latest voting polls; and our Daily Evening News Brief, a newsletter-style message with a light tone that mixes headlines, information, quotes, links, and emojis.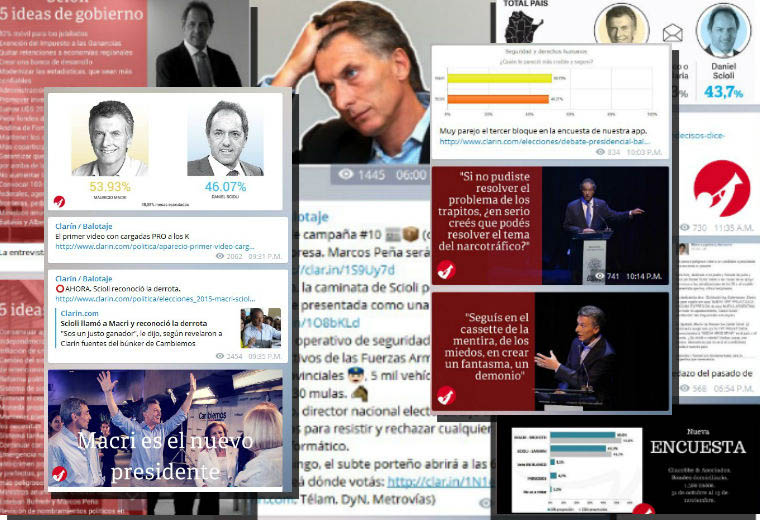 On the night of the presidential debate, and on the day of the final election round (two milestones for Argentina's politics), we live-fed the Telegram Channel with quotes, polls results, pictures, and behind-the-scenes information gathered by reporters on site.
We distributed more than 300 messages, of which there were more than 130 images, 80 links, approximately 10 videos, six audio clips, and a PDF file. It was a heavy load of push alerts, but our bet on user engagement with the topic proved successful: in a short time our channel peaked at 1,800 concurrent members.
By early December, that was considerably more than what other media brands had achieved in Telegram Channels with general news coverage and a more global audience.
Through this experience Clarín has learned that:
• Messaging services like Telegram, Messenger, WhatsApp, and Snapchat clearly draw new patterns of content creation and distribution.
• Users are willing to subscribe to message feeds and receive many notifications on their mobile devices if the subject matter is hyper-relevant to their interests.
• Brands can develop stronger bonds with app users through specific (or niche) topics.
• Legacy media, with their broad newsrooms and variety of beat reporters, already have the skills and some of the resources to use this new conversational and specialised news landscape.