In early September, Ken Doctor, a news industry analyst and author of Newsonomics, published an article in the Nieman Journalism Lab about the Toronto Star's C$10 million niche print business.
Since the article appeared, I have had several people contact me seeking details, which I have gladly given to them.
Here is what I've told them.
Importantly, it is true that there are incremental profits in our print businesses. The key point, though, is that we have to think about them differently. Our opt-in approach to special print products is simple: Determine what your readers want, package it the way they ask you to, allow a long trial period, and ask for the order.
To date we have three such products, namely a television book, a puzzle book, and a New York Times supplement. All of them are very profitable.
Starweek, our legacy TV listings book, was our first approach at repackaging and offering our readers an opt-in product. We were seriously considering pulling the plug on the book because advertising revenues had dropped to the point where the book was posting a loss.
We pushed ourselves to determine how much value readers placed on the TV book. Using our reader panel, we quickly determined that while roughly 50% our readers no longer used the book (mostly opting for online/onscreen versions), the remaining 50% were not only still using the book, but were very engaged with it and found it quite valuable.
The original research convinced us to delay pulling the product and to determine if we might be able to turn the book into a profit center.
More research with the panel, prototypes, an internal working group, and focus groups finally led us to a new re-designed TV listing offering that met reader needs. What surprised many of us was that these readers did not want content, photos, a glossy cover – they just wanted TV listings and they were willing to pay.
Obviously the challenge was to decide how much to charge. Many on our team felt that because the product had been free for years that C$0.25 would be the right price. Our cost to print and distribute was about C$0.12 cents a copy.
Finally we landed on C$0.50 cents a week. Some were worried the price was too high, but it turned out we could have charged even more money.
The next hurdle was marketing this new offering. We acted on suggestions by readers and increased the listings and size of the product by more than 50%. But we still had to convince readers that Starweek was improved and worth buying. To do that, we built a detailed marketing plan, including six weeks of sampling.
The plan worked because we dramatically exceeded our most optimistic expectations. At the peak we were producing roughly 250,000 books each week to satisfied, paying subscribers.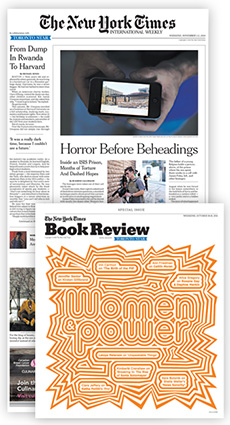 At this point we knew we were on to a new revenue stream. We were able to forge a partnership with The New York Times and created a new product featuring international content from The Times along with a condensed New York Times Book Review feature.
We priced this offering at C$1 a week, followed a similar marketing approach we had used with the TV book and launched a large, city-wide marketing/brand campaign. This product also went over very well with a selected group of our readers, and we had our second successful opt-in product.
Our third opt-in product is a puzzle book. By now we were bullish on pricing and brought this offer to market at C$1.50 a week. Once again, our strategy worked.
The opt-in approach can be successful in any market, but there are several steps I would suggest are crucial to bringing these products to your readers:
Invest in research, test your concepts, and show readers prototypes of the product you will be offering.


Use reader panels to test concepts; the cost is much less than traditional surveys or focus groups.


Move to focus groups just before launch because real people will give you insights that are difficult to get at through panels.


Invest in marketing; the call to action here is very important.


Sample for at least four weeks. Six is better.


Make the sign-up process as simple as possible.


Offer a weekly price, but bill monthly through an auto-pay system (our churn on these products is incredibly low).


Set up a P&L for each of these offers (counting the money is really fun).
We have a number of other concepts in the works and have plans to bring additional products to the market in 2015.
One final point: The margins on this type of business are very attractive after the first year. We run all three products with less than one full-time employee. We spent heavily up front in research, marketing, and sampling costs, but the costs since then are minuscule.
One final thought: Not all new innovations in media have to be digital.